Weaker Inflation Joins Brexit Fog as Cause for BOE Rate Caution
(Bloomberg) -- Bank of England Governor Mark Carney's list of reasons to move slowly on raising interest rates is getting longer.
As Brexit chaos continues to tie his hands in the short term, a report Wednesday showed inflation has slowed to close to their 2 percent target. Price growth in the final quarter of 2018 was about 0.2 percentage point lower than policy makers forecast in November.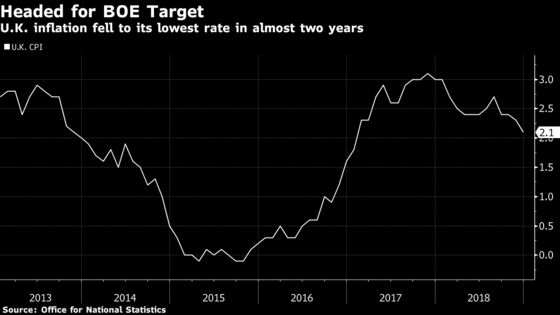 The BOE will update its forecasts at its Inflation Report on Feb. 7. After Prime Minister Theresa May's Brexit deal suffered a landslide defeat on Tuesday, there's no guarantee that the U.K. will have a fresh strategy -- or even a government -- at that point.
"There is still a case for gradual and limited rate rises, but Brexit puts that on hold for the time being," said Victoria Clarke, an economist at Investec. "We penciled in February but now we think that there won't be the certainty by that point. Assuming that something does get cobbled together ahead of the May BOE meeting, we have a May hike in."
While the prime minister is expected to survive a no confidence vote on Wednesday, the next steps in the Brexit process are unclear, and there's still the prospect of a no-deal exit that the BOE says will cause severe damage.
What Our Economists Say:
"The scale of defeat for Prime Minister Theresa May's Brexit deal yesterday raises the likelihood of a delay to Britain's departure from the EU. That would mean yet more uncertainty weighing on an already bruised economy as well as a delay to the next hike in interest rates."
--Dan Hanson, Bloomberg Economics. Read the full INSIGHT
Speaking in Parliament on Wednesday, Carney said the BOE is in discussions with the U.K. Treasury about the powers it needs to smooth any financial ructions if the country leaves without a new arrangement in place.
He added that a rebound in the pound following the defeat of May's bill seems to reflect views that the prospect of a no-deal departure has diminished, but cautioned against putting too much weight on short-term fluctuations.
Against such a backdrop, investors are increasingly pessimistic about the prospects for future BOE action, and aren't fully-pricing in a hike until early 2020. Still, the outlook for interest rates, and inflation, could change quickly once the final Brexit outcome becomes known.