Czechs Signal End of Hikes With Key Rate at Highest in Decade
(Bloomberg) -- Go inside the global economy with Stephanie Flanders in her new podcast, Stephanomics. Subscribe via Pocket Cast or iTunes.
The Czech central bank signaled a prolonged period of stable interest rates after raising borrowing costs to the highest level in a decade.
The bank, which led Europe with five hikes last year, voted unanimously on Thursday to raise its benchmark a quarter-point to 2 percent, defying a pullback from monetary tightening by the U.S. Federal Reserve and the European Central Bank. But the koruna weakened after the Czechs trimmed economic-growth projections and Governor Jiri Rusnok said fresh staff forecasts showed no need for further rate increases for about a year.
Read TOPLive's coverage of the Czech central bank rate decision here
"Inflationary pressures have been easing already," he told journalists after the rate meeting in Prague. "The baseline scenario is what the forecast says: a rate increase today and more or less stable rates in the coming period."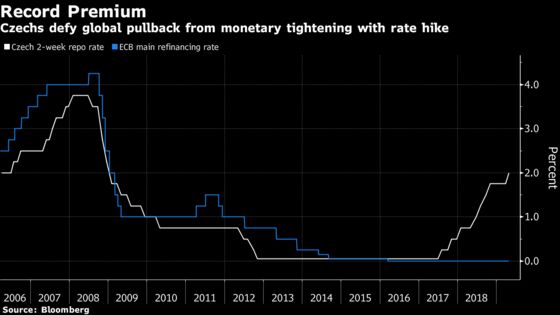 The Czechs are trying to find a balance between managing above-target inflation and external risks to the export-oriented economy -- including Brexit, trade wars, and weaker demand from neighboring Germany. Poland, Romania and Hungary have all steered clear of significant monetary tightening of late.
The rate increase further widened the already record difference between Czech and euro-area borrowing costs. This would normally make the koruna attractive for investors if it wasn't for the oversized positions created by foreigners during now-defunct regime capping currency gains.
Rapid Czech wage growth and the koruna's inability to strengthen as forecast have helped push inflation to the top of the central bank's 1 percent-3 percent tolerance band, prompting action after rates were left unchanged for three meetings.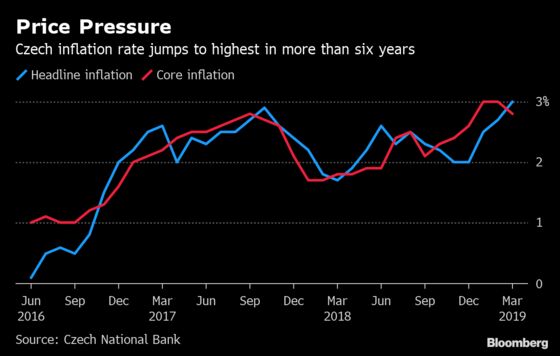 While the new forecasts assume the koruna will gain less than previously projected, they still imply it will strengthen to an average of 24.7 per euro next year, tightening monetary conditions. But the currency has undershot central-bank predictions for the past year and a half. A Bloomberg survey of analysts shows this will also be the case in 2019 and 2020.
"Unlike the central bank, we expect the koruna to weaken," said Lubos Ruzicka, an analyst at Raiffeisenbank AS. "This will counter the slowdown both in inflation and in the economy."