Warren Says She'd Seek Fed Governors More Relaxed on Inflation
Democratic presidential candidate Elizabeth Warren wants to install dovish policy makers at the U.S. central bank if she wins in November.
"We will appoint Federal Reserve Board members who believe in full employment, who recognize that inflation fears have been overblown for years, and who are willing to let wages grow," Warren said Thursday in remarks prepared for delivery at Saint Anselm College in New Hampshire.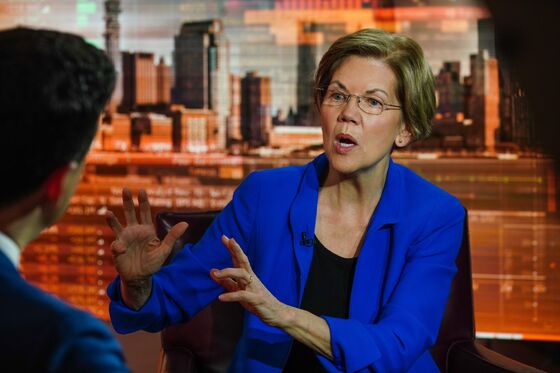 The Massachusetts senator's comments echo those of President Donald Trump, who criticized the central bank for raising interest rates in 2018 despite low inflation -- and for not cutting them fast enough for his liking this year.
There are currently two vacancies on the seven-seat Fed Board in Washington. Governors are nominated by the president and confirmed by the Senate. In addition, Chairman Jerome Powell's first four-year term at the helm will end in February 2022.
Powell and his colleagues held rates steady on Wednesday following three consecutive meetings at which they had cut, and signaled most officials thought it would be appropriate to stay on hold through next year. The central bank had eased policy in part to offset economic weakness stemming from uncertainty over Trump's trade policies.
Warren's remark about wages and inflation followed comments from Powell on Wednesday that touched on the same subject. He told reporters following the rate announcement that he and his colleagues have learned "that we can sustain much lower levels of unemployment than had been thought," which means "we don't have to worry so much about inflation."