Warren Blasts Fed Nominee Judy Shelton for 'Radical Statements'
(Bloomberg) -- Massachusetts senator and Democratic presidential contender Elizabeth Warren blasted Judy Shelton, nominated to join the Federal Reserve Board of Governors, in a letter demanding explanation for Shelton's past "inaccurate and radical statements" on economic policy and the U.S. central bank.
Fed governors must be "willing and able to act based on evidence, with care and attention to the best interests of the American people, and independent of short-term political pressure, such as from the president," Warren wrote in the Thursday letter. "Your history indicates you are unable to do so."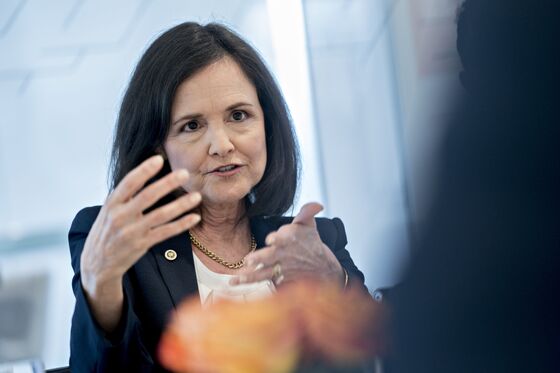 Shelton didn't immediately respond to email or telephone efforts to reach her for comment.
The former economic adviser to President Donald Trump's election campaign was nominated by the president alongside economist Christopher Waller this month for a vacant spot on the seven-seat Fed board. She has attracted controversy in the past for her support of reviving a gold standard for the U.S. currency and for abandoning her previously hawkish views on inflation after becoming a candidate for a Fed nomination.
Waller is research director at the St. Louis Fed. The nominations are subject to Senate confirmation and will entail a hearing before the Senate Banking Committee, where Warren is a member. No hearings have been scheduled.
In her letter, Warren asked Shelton to explain her pivot during the Trump administration to supporting interest rate cuts after previously arguing that low rates would hurt savers.
"This drastic switch in your opinion to reflect President Trump's preferences suggests that your judgments are informed by political opportunism rather than sound economic analysis," Warren wrote.
Warren also attacked Shelton's past criticism of federal deposit insurance and advocacy for a gold standard, a system that links the value of a currency to a fixed weight in the metal.
"These and many other statements you have made in your public career strongly suggest that you lack the capacity to exercise the care, consistency, and political independence expected of members of the Board of Governors," Warren wrote.