Walmart's Supermarket Rivals Are Eating Into Its Grocery Share
(Bloomberg) -- Grocery stores are booming as the coronavirus pandemic drives Americans to stock up their pantries. But the nation's biggest grocer is largely missing out.
Walmart Inc., which has sat at the top of the food chain for years, has lost market share to companies like Kroger Co. and Albertsons Cos., whose quarterly sales have risen by double-digit percentages. While much is made of Walmart's high-stakes battle with Amazon.com Inc., right now it's mainstream supermarkets who are nibbling away at Walmart's dominance in the nation's $900 billion grocery market.
Walmart investors are concerned, with shares down 3.1% over the past week. Meanwhile, Kroger is up 10% since it reported better-than-expected sales in its first quarter, while Ahold Delhaize, the European owner of U.S. chains like Stop & Shop and Food Lion, rose 7.6% in August through Monday's close. The setback could just be temporary, though, as pandemic-inspired spending habits revert back to normal.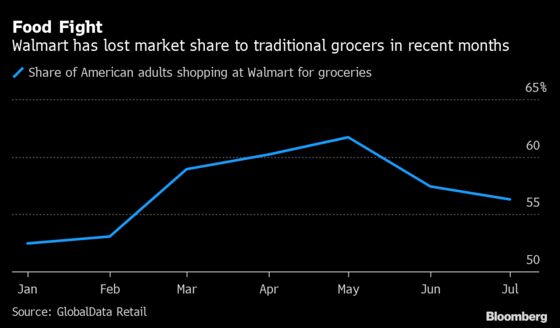 The share loss is due to several factors. Walmart's penny-pinching core shoppers don't eat out as often as those who frequent mainstream grocers, so those chains are enjoying a greater uplift as their clientele shift their budgets to homemade meals. Traditional supermarkets also have largely abandoned their usual discounting strategies given the unprecedented demand for food, so they're selling more at full price, boosting their gains.
"While Walmart is performing well, it is losing some share to traditional supermarkets," Scott Mushkin, an analyst at R5 Capital, said. "Consumers have rediscovered the traditional supermarket, and they like it."
With Walmart about to introduce a grocery-based membership program to rival Amazon Prime, it's a bad time to be grappling with disloyal shoppers. And as supermarket workers earn praise as unsung heroes of the pandemic, shoppers may be keen to shift more dollars to the corner grocer than the nation's biggest retailer.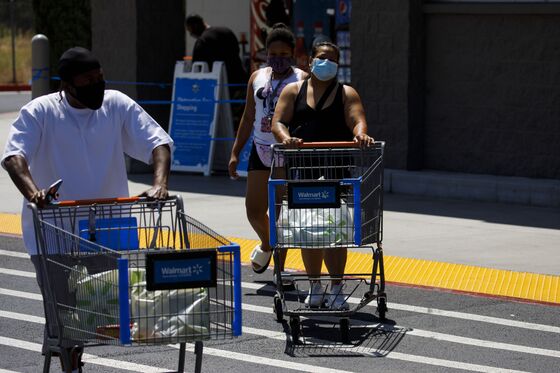 That tighter emotional bond with local grocers is backed by researcher GlobalData Retail, which found that the share of Americans who shop at Kroger and Albertsons for groceries rose by more than five percentage points each between the first and second quarters. GlobalData analyst Neil Saunders said those grocers are benefiting more than Walmart from the sharp falloff in restaurant dining.
"This means Walmart is losing market share even if it is seeing revenues rise," he said.
Despite the brick-and-mortar challenges, Walmart has fared well against Amazon in online grocery sales. In August, Walmart pushed past its rival for the first time in the share of online food and beverage transactions, according to TABS Analytics. With 3,300 stores offering free curbside pickup and home delivery available to most of the country, Walmart's online grocery business has held strong even as startups like Instacart have flourished during the pandemic.
There are other factors behind Walmart's shrinking grocery share. Mainstream supermarkets usually employ a strategy in which they seesaw from selling products at discounted prices, or through enticing two-for-one deals, only to raise the price later on. They threw that playbook out the window during the pandemic, as products were often in short supply and customers were happy to pay full price for whatever was in stock.
The share of consumer packaged goods sold at a discount in May was 20%, according to data-tracker Nielsen, down from 30% a year ago. By selling more than three-quarters of their products at full price, sales growth for Kroger and others got temporarily inflated. Meanwhile, Walmart's everyday-low-price policy prevents it from playing that game, so it didn't benefit.
As a result, Walmart's grocery market share "fell dramatically" in the early months of the pandemic, according to Michael Maloof, analytics director at Earnest Research. However, the promotional environment is getting back to normal in recent weeks, Nielsen found.
Analysts aren't overly concerned -- at least not yet. The shift away from restaurants eventually will unwind, and as Americans start eating out more, Walmart will be hurt less than local supermarkets. Walmart is also still selling more bananas, meat and milk than ever before -- $8 billion more this year so far, U.S. CEO John Furner said last week. Its grocery unit increased comparable sales about 5% last quarter.
"It's a big deal if the share loss is permanent," said Simeon Gutman, an analyst at Morgan Stanley. "We think it's temporary."
For now, though, local supermarkets are having a moment.
"Buy the grocers," R5's Mushkin said. "It's their time to shine."