Wall Street Sees Fed Making Another Technical Tweak in December
(Bloomberg) -- If the Federal Reserve raises interest rates a quarter percentage point in December as expected, a chorus of Wall Street economists say it will make another small adjustment to how it manages its target range for the benchmark federal funds rate.
In what would be the second such move this year, the economists say it will only raise the interest it pays on excess reserves by 20 basis points, instead of 25 basis points. That's what the central bank did in June to prevent the effective fed funds rate from creeping past the upper bound of the target range, which is currently 2 percent to 2.25 percent.
IOER is one of the tools used by the Fed to keep the effective funds rate within the target range. Despite that June effort, surging Treasury-bill supply and the central bank's balance sheet unwind have driven short-term funding rates higher. That has pushed up the effective funds rate and put it just 1 basis point away from the IOER -- the narrowest gap since 2009.
What's IOER? Fed Puts Rate-Hike Tool in the Spotlight: QuickTake
Adjustment No. 2 would come in December because the effective fed funds rate is ticking up only slowly and because that's when the central bank is expected to lift its benchmark interest rate for the fourth time this year. "The Committee has a slight preference for making any technical adjustment at a meeting when they hike," Michael Feroli, chief U.S. economist at JPMorgan Chase & Co., wrote in an Oct. 23 note.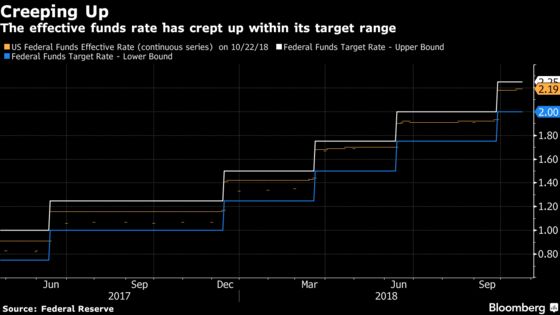 Krishna Guha and Ernie Tedeschi at Evercore ISI also expect the technical change in December, but say "we do not see this re-pegging as a problem or one that requires a change in balance-sheet strategy." Bank of America Corp.'s Mark Cabana and Olivia Lima made a similar prediction in a note last month, and Wrightson ICAP economist Lou Crandall has said the odds "strongly favor" a December tweak.