Wall Street Bulls Get a Reality Check From China
(Bloomberg) -- China's manufacturing wobble is exposing shaky foundations for bullish bets on growth powering a rally from commodities and emerging-market currencies to tech.
For weeks, a risk rally has defied signs the real-economy is entering the winter of its expansion -- reports of a slowdown in the industrial cycle, Italy crashing into a recession, Germany barely escaping one. Yet, the stocks of homebuilders and tech have surged akin to the early phases of expansions, while the currencies of commodity-exporting countries have trampled the dollar.
Arguably, these investors are staring at a void of hard good-news data, with the manufacturing engine in the world's second-largest economy sputtering anew, according to Thursday's PMI report. That followed an ugly batch of earnings from technology and internet companies from the U.S. overnight.
"The problem is that bear-market rallies are notoriously difficult to read and call and they usually last longer than you expect," Julius de Kempenaer, who invented a model that tracks shifts in stock-price momentum, said by email from Amsterdam. "They have a habit to fool people very often."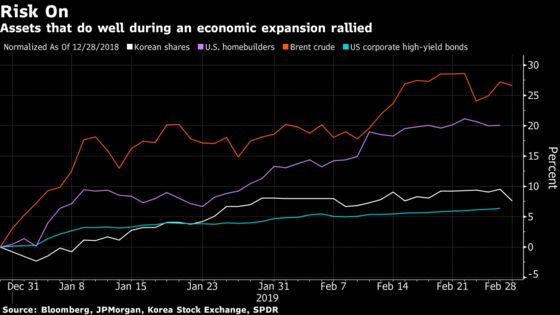 Buoyed by dovish monetary policy, cheap valuations thanks to the December meltdown, and Chinese stimulus, the charts below show just how skewed the market now is toward wagers on economic expansion.
Equities often bought during the early expansion phase are coming into vogue, from technology companies, homebuilders, carmakers to miners. That's according to the 12-week relative rotation graph which measures the momentum of share price moves to gauge shifts in appetite.
More-defensive shares are out. Miners have rallied 17 percent this year while health care and utilities, favored in late-cycle scenarios, are up less than half that much.
Copper's best start to a year since 2012 after four consecutive quarterly losses hit a wall Thursday: Chinese purchasing managers index. The first official gauge for February showed activity slumped further below the 50 mark that signifies contraction. The nation buys half of the world's copper, used wherever electricity is found and known as a barometer of growth.
"These days the investing world seems split between two types of market participants: the believers and the skeptics," according to Geraldine Sundstrom, a London-based managing director at Pacific Investment Management Co. "Chinese stimulus could be instrumental in deciding which investors are proved right."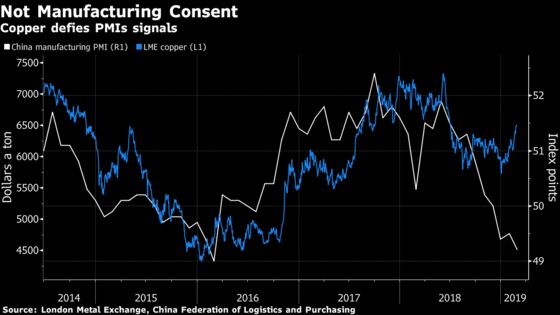 Semiconductor stocks are a good benchmark of market sentiment, with a weekly correlation of 0.8 to the S&P 500 over the past five years. These companies rally on average 30 percent more than the wider market in bull markets and often move first. After tumbling 15 percent in the fourth quarter, the Philadelphia Stock Exchange Semiconductor Index jumped 18 percent this year.
Fred Hickey, author of the High-Tech Strategist newsletter, has little conviction in the rally.
"Early 2019 optimism is starting to appear to be a mirage," he said by email. With company executives warning of an overhang in inventories sentiment while a global economic slowdown gathers pace, "it's impacting end market demand for smartphones, autos, PCs and industrial equipment, and the majority of semiconductors are consumed by these end markets," Hickey said.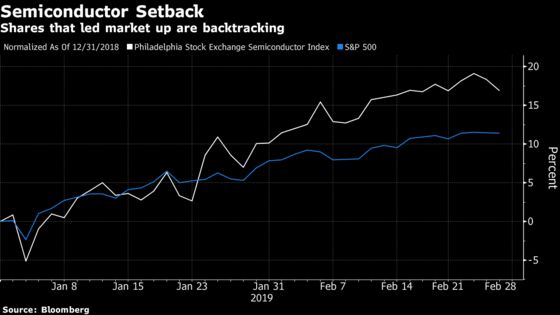 Rallying emerging-market currencies show the growth narrative taken up by foreign-exchange traders. The MSCI Emerging Markets Currency Index rose 2.3 percent this year, outperforming the euro, yen and Swiss franc versus the dollar, as well as that currency's index.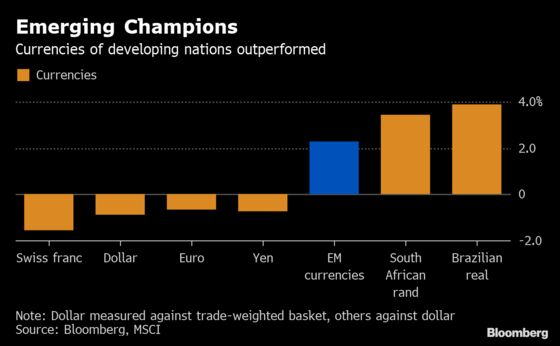 In Europe, markets are also projecting a version of reality at odds with hard data. Investors are chasing speculative-grade bonds, usually the first to be hit by an economic slowdown that saps their cash flows and ability to service large debt loads.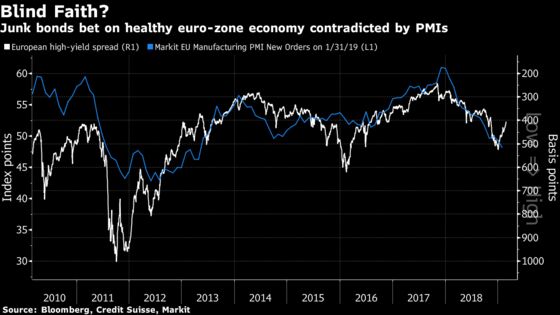 The region's stocks are also ignoring cues from less-than-stellar earnings, weak macro data and a the safety bid for government bonds flashing growth risks. Italy's FTSE MIB is even outperforming the S&P 500.