Wage Data Supports Dovish RBA Over Traders Eager for Hikes
(Bloomberg) -- Australian wages data Wednesday backed Reserve Bank Governor Philip Lowe's dovish price views as markets continue to bet he will be forced to raise interest rates next year.
Lowe says wages need to rise 3% or more to return inflation to target as third-quarter data showed annual pay gains matched estimates at just 2.2%. The yield curve steepened as the rate on the three-year government bond dropped 6 basis points to 0.96%, while traders trimmed bets on higher borrowing costs.
"There's been a lot of noise in the market about inflation and rates and today's data showed that wages growth is not becoming a problem yet," said Diana Mousina, senior economist at AMP Capital Investors Ltd.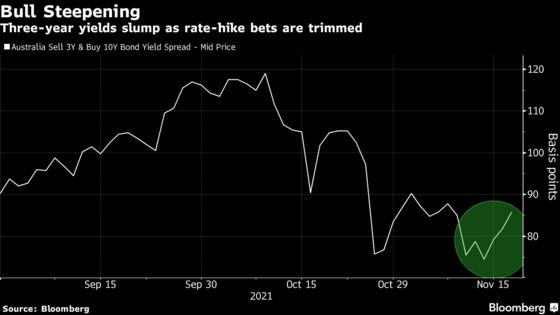 The RBA argues it will take about two more years of ultra-low rates to tighten the job market enough to drive decent pay gains. That contrasts with markets, which are pricing at least three rate increases in 2022. 
Traders have been emboldened as Australia's high vaccination rate positions it to ride an economic rebound, putting the nation under the same inflation pressures as economies from Washington to Wellington.
Yet economists including Catherine Birch at Australia & New Zealand Banking Group Ltd. note a key difference with places like the U.S. is the lack of churn in jobs -- where workers jump between employers in pursuit of higher pay.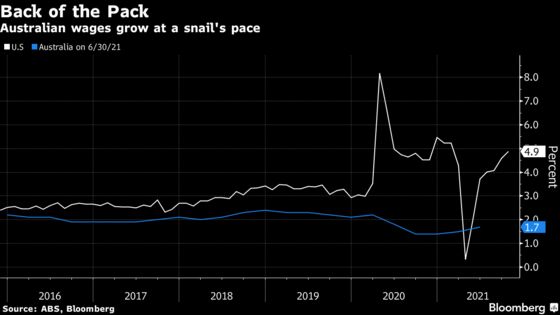 "It's too early to see wage prints in Australia as strong as those in New Zealand, let alone the U.S.," said Birch, a senior economist. "And we haven't yet seen the 'Great Resignation' here to put upward pressure on wages."
There are also some specifically Australian factors that weigh on wage growth:
Many salaries are set based on long-term contracts that have a ceiling of 2.5% or lower; and
Public-sector workers, which constitute roughly 16% of total employment and have often sent a price signal to the wider economy, facing caps on gains or outright pay freezes
Australia's unemployment rate surged to 5.2% in October as a protracted lockdown on the east coast took its toll. But with restrictions lifting and forward indicators showing activity reviving, the job market is expected to recover swiftly.
What Bloomberg Economics Says...

"While a rapid labor market rebound is expected following the easing of domestic lockdowns, the reopening of Australia's international borders is set to drive up labor supply and damp emerging wage pressures."

--James McIntyre, economist. For the full report, click here
Lowe reckons the jobless rate needs to fall to 4% or lower, and stay there for some time before employers will be prepared to pay more to attract staff.  
The governor cites the pre-pandemic experience of New South Wales, where the state jobless rate fell to around 4% and wages didn't do much. More recently, Western Australia shut its domestic border during Covid and saw labor shortages as unemployment hit 3.9%. Yet again, pay gains remained weak.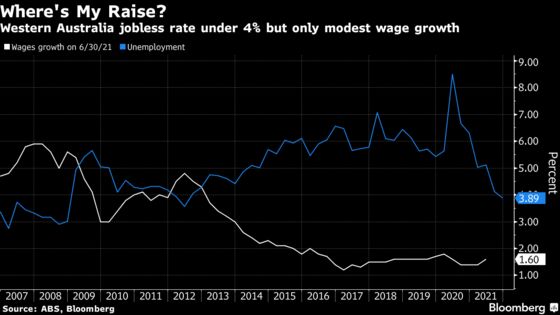 Still, consumer inflation expectations were 4.6% in November, up from 3.3% in August, and monetary and fiscal authorities are still pumping stimulus into Australia's A$2 trillion ($1.5 billion) economy. 
"If wages growth doesn't come in this environment then we might as well give the game away," said Gareth Aird at Commonwealth Bank of Australia.