Pioneer of Wall Street Fear Gauge Says It's Now Worse Than 2008
(Bloomberg) -- Thursday's harrowing sell-off in U.S. stocks sent investors reaching all the way back to the financial crisis and Black Monday for historical parallels.
But the academic who inspired the creation of Wall Street's fear gauge -- the Cboe Volatility Index -- says what markets are now grappling with is worse than the credit meltdown a decade ago in some key ways.
That's because no one really knows how much damage the spreading coronavirus will ultimately inflict.
"The level of uncertainty is even beyond what we saw in 2008 immediately after Lehman Brothers collapsed," Dan Galai, a professor at the Hebrew University of Jerusalem, said in a telephone interview.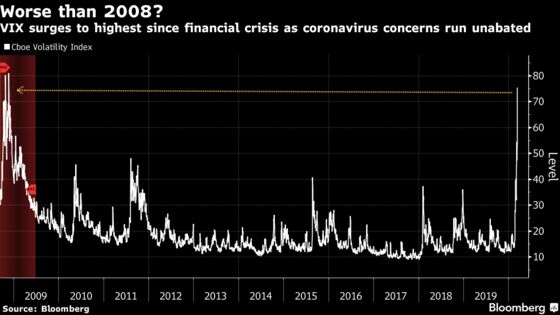 The biggest one-day drop for U.S. stock markets since October 1987 sent the VIX surging as high as 76 on Thursday. The index, which reflects expectations for near-term swings in the S&P 500, has now closed above 45 for four straights days, its longest streak since 2009. It was at 63 in Friday trading as stocks mounted a comeback.
"If you look at 2008, it spiked and then within a day or two, it was going down very fast," said Galai. "Here, it's been steadily going up instead of going down. It's more violent, and it's more persistent."
Galai doesn't see it falling materially until there's greater visibility on the extent of the fall-out from the epidemic. With authorities coming under fierce criticism for their handling of the public health emergency, there's no telling when that will be.
"It's so much different from the global financial crisis because we've seen those cycles before," said Galai. "This time, nobody has any view or any good prediction of the duration and depth of this epidemic. What we see in the VIX is really the reflection of the enormous uncertainty."
In the latest developments, U.S. House Speaker Nancy Pelosi said she's near an agreement with the Trump administration on a bill to mitigate the impact from the virus, while China's central bank said it would pump in $79 billion to bolster the economy.
Galai's proposal for a series of volatility gauges in 1989 served as inspiration for Cboe's index, which has blossomed to support an entire ecosystem of products from options and futures to exchange-traded funds. The complex has grown so massive that some point to speculators in VIX products for exacerbating moves in volatility markets.
Credit Suisse Group AG was forced to shutter a short-volatility note in 2018 after it was blamed for spurring outsized gains in VIX futures.
Galai calls such strategies a "a substitute for Las Vegas."
He also takes a dim view of central banks' ability to alleviate the crisis by easing borrowing costs and providing stimulus. Both the Federal Reserve and the Bank of England have pushed through emergency rate cuts in a bid to insulate their economies, while the ECB pledged additional stimulus to help combat the virus's fallout.
"I don't think interest rates have any effect right now," he said. "Monetary steps, in my view, are completely redundant."