Visco Doesn't See Attacks on Bank of Italy's Independence
(Bloomberg) -- Governor Ignazio Visco dismissed concerns over increasingly tense relations between the Bank of Italy and the nation's populist administration, saying that the central bank is not under attack and that its independence requires it to be accountable.
"I think that the Bank of Italy is effectively independent, autonomous," Visco, who is also a member of the European Central Bank governing council, said at an event in Milan on Wednesday. "I don't see where the attack on the autonomy is, there is no attack on the autonomy."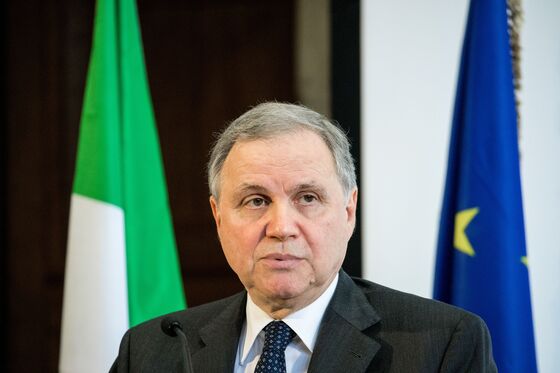 Visco's comments follow a series of remarks by both deputy premiers Matteo Salvini, of the anti-migration League party, and Luigi Di Maio of the anti-establishment Five Star Movement criticizing the central bank's record on the supervision of the nation's lenders.
Last week Di Maio and other Five Star ministers reportedly forced the cabinet to postpone a decision on renewing the term of Bank of Italy deputy director general Luigi Federico Signorini.
Visco told the Milan audience that "at times there is an uncertain vision of the Bank of Italy's responsibilities and there are people saying that there can't be independence without accountability." He added that he "fully" agrees with the latter point.
The governor also commented on a proposal by a League euroskeptic lawmaker to pass a law stating that the central bank's gold holdings worth almost $103 billion belong to the state.
"There is already a law," he said.
The bill presented by League's Claudio Borghi and currently being examined by the Lower House's Finance Committee calls for an explicit interpretation of the legislation on the Bank of Italy's reserves dating back to 1988. The proposed article says that the institute "holds and manages as deposits" the gold, while its ownership is with the Italian state.
Borghi, who heads the Budget Committee in the Lower House, repeatedly rejected criticism from opposition politicians, and some national media arguing that the legislation may allow the government to raid the gold reserves to fund spending promises.