Virus Threat Overshadows Boris Johnson's Post-Vote U.K. Economy Bounce
(Bloomberg) -- The economic bounce from Boris Johnson's Brexit breakthrough could be cut short as the coronavirus casts a pall on the nascent recovery.
While there have been signs of a rebound in investment, retail sales and even house prices, Britain is an open economy that's particularly susceptible to global events. The virus is already having an impact on the U.K., according to Bank of England Governor Mark Carney.
An international health crisis could wipe more than $1 trillion off of the global economy as a result of workplace absenteeism, lower productivity, sliding travel, disrupted supply chains and reduced trade and investment, according to Oxford Economics Ltd. Weaker world growth would have a knock-on effect for the U.K., Carney said.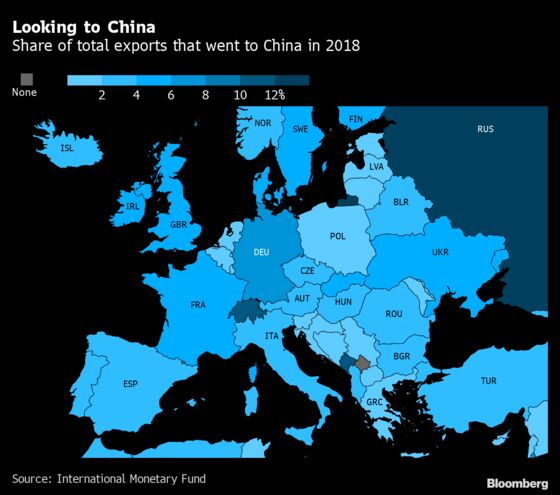 Concerns about the disease have led to more bets on central bank easing. Money market traders now expect the BOE to lower interest rates in May. They're also pricing in three Federal Reserve reductions this year and one by the European Central Bank in July.
"We're not out of the woods yet," Carney said in an interview with Sky News broadcast Friday. "It's hard to be precise about the magnitude and, very importantly, the duration -- how long this will last."
There are already impacts on British supply chains and tourism, he said. Carmaker Jaguar Land Rover, based in the Midlands, is one of many U.K. companies facing disruptions.
Johnson's election victory in December broke the political impasse over Brexit and paved the way for Britain to officially leave the European Union a month ago. BOE Chief Economist Andy Haldane said this week that there's a good chance U.K. companies will unleash spending this year due to expansionary fiscal policy and more clarity over Brexit.
The coronavirus outbreak may also encourage the government to open the spending taps even further in the March 11 budget. Johnson has promised to improve infrastructure and skills, especially in the northern regions the propelled him to victory.
But the improved sentiment at the start of the year is already showing signs of petering out. Nationwide Building Society said Friday that the housing market is likely to be flat in 2020, even as it said that the annual increase in home values in February was the strongest in more than a year. A survey of private-sector activity for February also showed signs of a hit to supply chains from the virus outbreak.
There are also still risks from Brexit negotiations. Johnson threatened to walk away from the talks in June if it's not clear it will get a comprehensive trading agreement. Leaving with no deal in place would likely leaving the nation's GDP 3% smaller by 2030, according to Bloomberg Economics.
"The global economic backdrop remains challenging, with the coronavirus outbreak expected to weigh on global activity in the coming quarters," said Robert Gardner, Nationwide's chief economist. "Investment is likely to remain subdued until the U.K.'s future global trading relationships become clearer, which is unlikely until early next year."