Investors in Asia Still Betting Markets Will End Higher in 2020
(Bloomberg) -- Keep calm and carry on is the message from Asian financial experts even as the region's emerging markets take a battering from the spread of the deadly coronavirus.
Stocks, bonds and currencies in the region are all tipped to rise this year as central bank easing and government stimulus measures outweigh the impact of the epidemic on Asian economies, according to a survey of 18 traders, strategists and fund managers undertaken this month. The favorite asset to buy among currencies is the Indonesian rupiah, while investors looking to purchase bonds or stocks should both choose China, the survey found.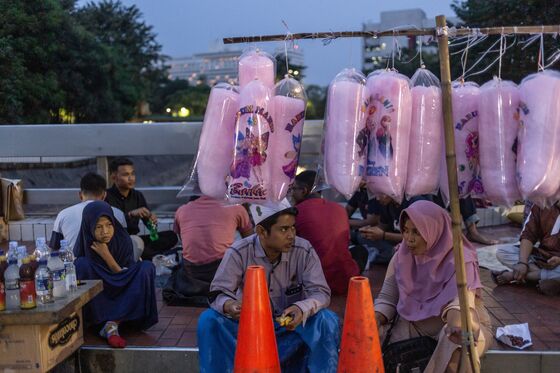 "The current coronavirus scare will probably stabilize around the second quarter, and that will lead to a recovery in economic activity," said Tetsuya Yamaguchi, chief technical analyst at Fujitomi Co. in Tokyo. "As emerging-market central banks could either cut or stay on hold, interest rates will probably remain low globally. That makes a good case for a rebound if you look ahead for the year, especially after the kind of sell-offs we've seen that made assets quite cheap."
Read more: Emerging-Markets Rally Has Big Backing for 2020
The rupiah was the most-favored currency amid speculation investors will search for higher yields as global central banks ease policy to counter the impact of the virus. Chinese bonds and stocks were both ranked first in their categories after Beijing announced monetary easing and fiscal support measures.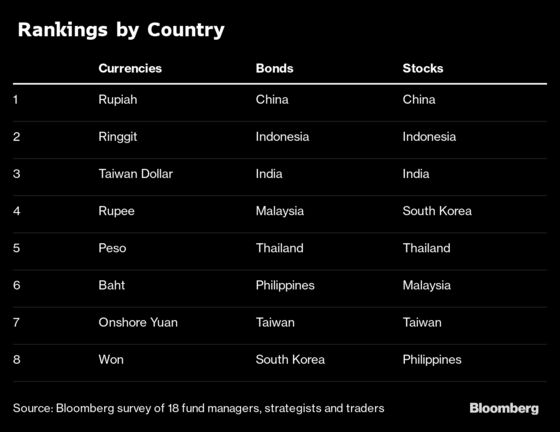 The two biggest drivers for Asian emerging-markets for 2020 are seen as China's growth outlook and the coronavirus epidemic. They displaced the two major factors that led a similar list in December -- the Federal Reserve's interest-rate path and the U.S.-China trade war -- which have now dropped to positions four and five respectively.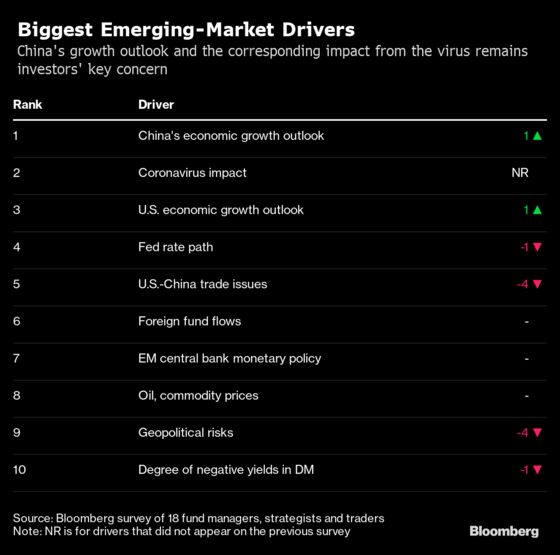 The impact of the coronavirus on China's economy will be relatively short-lived, even though it is currently roiling financial markets, the survey showed. All of the respondents agreed that it would slow growth in the first quarter, but less than 10% envisaged any impact by the last three months of the year.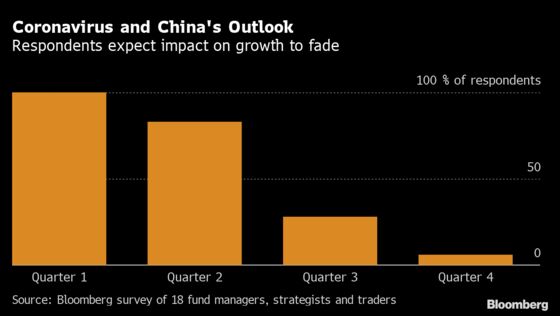 The respondents were also asked about the outlook for monetary policy, economic growth and inflation. They were unanimous in predicting China's central bank will cut interest rates this year, while only about 30% saw a similar step being taken in Taiwan. The interviewees were also unanimous in the view that China's economy will contract this year, while as a group they saw stable to lower inflationary pressures.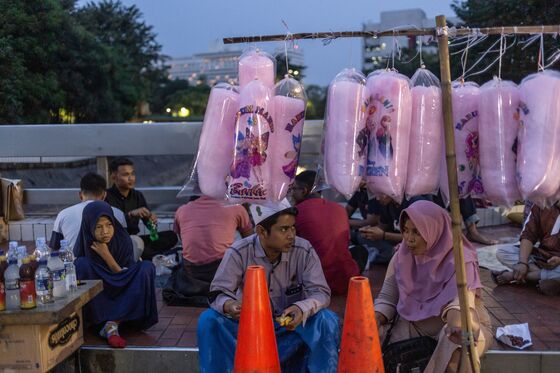 The survey participants were:
Asset Management One Co.
AxiCorp
Bank of Singapore Ltd.
BNP Paribas Asset Management
Citi Private Bank
Deutsche Bank Wealth Management
Fujitomi Co.
Kasikornbank Pcl
Loomis, Sayles & Co.
Malayan Banking Bhd.
Mitsubishi UFJ Kokusai Asset Management Co.
Mizuho Research Institute Ltd.
Monex Inc.
Office Fukaya, Research & Consulting
Siam Commercial Bank Pcl
Scandinavian Enskilda Banken AB
UBS Asset Management
UOB Private Bank
Note: The survey was conducted from Feb. 14 to Feb. 21.