Virus Halts German Recovery But Inflation 'Might Have Peaked'
The latest wave of the coronavirus pandemic brought Germany's economic recovery to a halt as restrictions rippled through the services sector, though there were indications that inflation has begun to abate.
Overall activity remained unchanged in December -- even as the supply-chain obstacles that have dogged manufacturing companies showed signs of improvement, according to a business survey by IHS Markit released Thursday.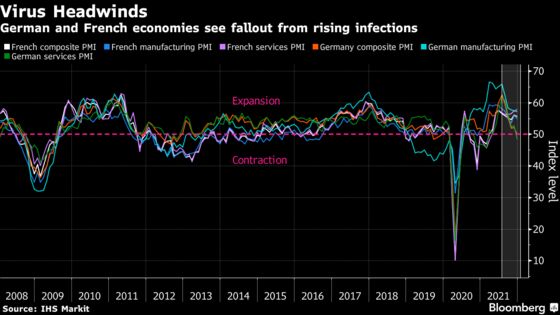 While upward price pressures remained strong, their increase slowed from last month in a sign that the current inflation spike may be easing -- good news for the European Central Bank as it meets to recalibrate its pandemic stimulus measures.
"The German economic recovery was stopped in its tracks," said Phil Smith, an economist at IHS Markit. "Price pressures continue to run extremely hot, but December's survey has at least offered the first indication that inflation might have peaked."
High Covid-19 case rates also slowed momentum in France, according to a separate report, though services proved more resilient there. Factories, by contrast, suffered from low demand and ongoing component shortages.
"Growth in France is, at present, entirely reliant on the service sector as manufacturing output fell for the second time in the past three months," according to IHS Markit economist Joe Hayes. "It's clear that the risks to the economy have grown substantially since November, and a fresh wave of Covid-19 infections could derail services activity."