Villeroy Sees No Need to Define Reinvestments Length in December
(Bloomberg) -- The European Central Bank shouldn't rush to spell out how long it plans to reinvest proceeds from bonds maturing under its asset-purchases program, said French policy maker Francois Villeroy de Galhau.
The Banque de France governor's remarks in Tokyo on Monday come less than four weeks before the ECB is expected to confirm it will stop expanding its balance sheet, a key step toward slowly normalizing its policy. Policy makers have said that after net buying ends they intend to reinvest proceeds from maturing debt for an extended period of time to keep an ample amount of stimulus in place.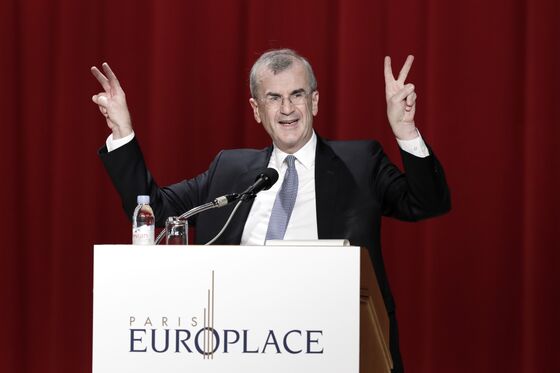 Net asset purchases will "very probably" end in December, Villeroy said, according to a copy of his speech released by Banque de France. The ECB should reduce the pace of reinvestment only after the first rate increase, he said. As a consequence, policy makers are "not obliged" to set out a precise horizon for reinvestments at the meeting on Dec. 13.
The ECB should remain very "pragmatic" and able to adapt its monetary policy to economic data. While the pace of expansion has moderated, the outlook for inflation is "firmer" because of increasing signs that the labor market is tightening and nominal wage growth is picking up.
Another round of cheap loans to banks called targeted longer-term refinancing operations (TLTROs) could be "considered again – possibly with different terms – if warranted."
The challenge for central banks, according to Villeroy, is that the global economy is moving from synchronized growth to economic divergence. As a consequence, some countries might be suffering from the rise in U.S. interest rates. Adverse effects of protectionism cannot and shouldn't be accommodated by monetary policy.