Vietnam's President Says He 'Has Limits,' Health Is 'Worrisome'
(Bloomberg) -- Vietnam's Communist Party General Secretary Nguyen Phu Trong asked for sympathy from the nation after being elected the country's new president, citing his "worrisome" old age and health in an acceptance speech to the National Assembly.
The 74-year-old's election by the parliament, announced Tuesday, followed the Sept. 21 death of President Tran Dai Quang from illness. He was nominated to the post by the politburo about two weeks after Quang's death, elevating Trong to become the country's most influential leader since late revolutionary founder Ho Chi Minh.
The nomination broke with Vietnamese tradition, in which political power rests with four individual leaders -- party chief, prime minister, president and head of the National Assembly. Local news website VnExpress reported that of the 477 delegates, 476 chose Trong, indicating he won 99.79 percent of the vote.
"My qualifications, capacity and my limits are obvious, my knowledge is not sufficient," he told the National Assembly moments after being sworn in as president. "I'm getting old and my health is becoming weaker, so it should be worrisome. Therefore I'm asking for sympathy and help from all of you and from the legislators, from the government administration, from the Vietnamese people."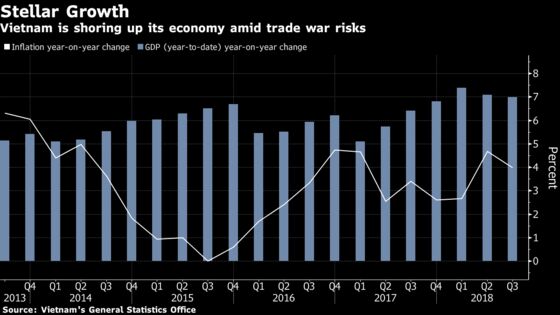 Trong acknowledged the difficulties the government faces as it strives to maintain the nation's standing as one of the world's fastest-growing economies. The government aims to boost 2019 economic growth to 6.8 percent through expanded exports forecast to grow 8 percent next year, Prime Minister Nguyen Xuan Phuc told lawmakers Monday in Hanoi.
The economy expanded 6.98 percent in the first nine months this year, on strong domestic demand, increasing exports and foreign investment, according to the General Statistics Office in Hanoi.
"We have a lot of heavy tasks awaiting ahead to be done as international developments are so unpredictable," Trong said. "We must be very careful."
Trong outmaneuvered influential former Prime Minister Nguyen Tan Dung to win a second five-year term as the Communist Party's head during its 2016 congress. He will directly oversee the nation's police and military forces, mirroring the role held by Chinese President Xi Jinping. On March 11, China's parliament voted to repeal presidential term limits, allowing Xi to keep power indefinitely.
Trong has welcomed a robust U.S. presence in Southeast Asia amid Vietnam's territorial tensions with China, which claims more than 80 percent of the South China Sea based on a 1947 map showing vague dashes -- the so-called nine-dash line.
He also spearheaded anti-corruption campaigns targeting officials and could accelerate those efforts, analysts say.