Vietnam's Communists Call on Private Sector to Spur Growth
(Bloomberg) -- Vietnam's Communist leaders are seeking to relinquish most of the state's control over the economy to the private sector as they look to push for faster growth and productivity.
Delegates at the National Party Congress this week are expected to approve a five-year economic blueprint that calls for private companies to account for more than half of the economy by 2025, from 42% now, and to almost double per-capita gross domestic product in one of the world's fastest growing economies.
The targets are on the agenda during the twice-a-decade gathering of party brass in Hanoi, which wraps up Feb. 2. A new slate of top leaders will also be chosen to implement the goals, as the party sees economic expansion central to its continued dominance in the Southeast Asian country of nearly 98 million people.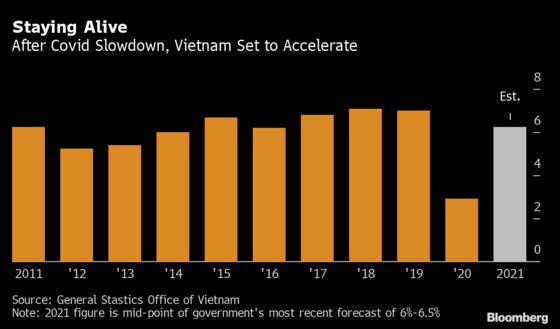 "Vietnam's economic growth over the next five years is absolutely key to the regime's legitimacy," said Carl Thayer, emeritus professor at the University of New South Wales in Australia. "It's key to the stability of Vietnam."
While some details of the party's plan could change, leaders have consistently embraced "socialism with a market orientation" since the late 1980s, when they instituted the doi moi -- "renovation" -- reforms.
Hanoi is increasingly linking the nation to the global economy, signing more than a dozen trade agreements in recent years and making it a magnet for foreign investment. It also benefited from firms relocating operations from China during the trade war led by former U.S. President Donald Trump.
The export-dependent country, which has so far successfully contained the domestic spread of the novel coronavirus, forecasts economic growth of between 6% and 6.5% this year, up from 2.91% in 2020.
According to the planning documents posted online, the party is seeking private development particularly in "manufacturing and processing, high technology and information technology" and calls for a "complete restructuring" of state-owned enterprises to make them efficient and profitable. Vietnam aims to be "a developing country with modern industry, surpassing the low middle income level" by 2025, it said in the documents.
"Private companies have become crucial for the economy, with their increasing contribution to GDP," Ha Thi Nga, a delegate at the party congress and chairwoman of Vietnam's Women Union, said on the sidelines of the meeting. "So it's significant and absolutely right that the party makes supporting private sector one of its goals."
The party's economic goals include:
About 1.5 million private companies making up 55% of GDP by 2025, versus 700,000 representing 42% now
At least 2 million private companies accounting for 60%-65% of GDP by 2030
Average economic growth of 6.5%-7% during 2021-2025, versus 5.9% the previous five years
Increasing per capita GDP to $4,700-$5,000 by 2025, from $2,750 at the end of 2020 and $1,331 in 2010