Vestager Backs 'Intrusive' Rules as EU Targets Chinese Firms
(Bloomberg) -- The European Union needs "intrusive" rules to prevent foreign state-funded firms -- such as those from China -- from undercutting EU rivals, the bloc's competition commissioner warned.
Speaking the day ahead of proposals aimed at curbing potentially unfair competition, Margrethe Vestager said the measures needed to have a "sufficient deterrent effect" to serve their purpose.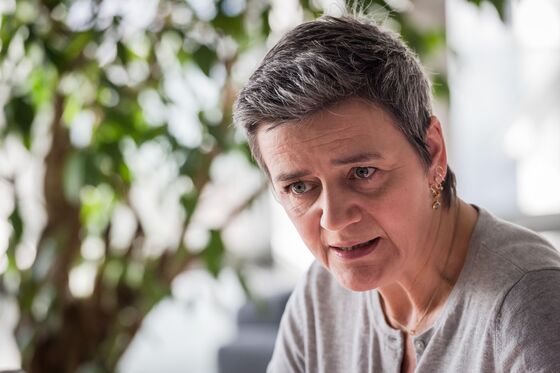 "We have seen examples of acquisitions, strong suspicions in giant tendering procedures where businesses who have to stand on their own feet and make the business case, they are undercut by businesses who get subsidies from foreign governments," Vestager told the online Wall Street Journal CEO Council conference on Tuesday.
The European Commission, the bloc's executive arm, will Wednesday propose measures to block deals aided by unfair subsidies or even slap companies with fines. While China wasn't specifically mentioned in a draft proposal seen by Bloomberg News, the move follows complaints from European businesses that the Asian nation's firms get support they can't match.
Vestager said the rules would allow the EU levy "stronger remedies, for instance to impose access" if a state-funded firm owns infrastructure such as a port or an airport.
China is "for us also a systemic rival," Vestager said and the EU is also seeking to weigh how dependent it is on certain global suppliers. "We want to make sure that we do not end up in a situation where we have a dependency with someone with whom we are in a systemic rivalry," she said.
China and other countries will "tell us if they find that we are not in accordance with what would be in their interest," she said of possible reaction to the proposal.
Under the draft EU rules, which will only be finalized on Wednesday, companies that generate at least 500 million euros ($600 million) of revenue in Europe and received more than 50 million euros of support from a foreign state in the last three years will need the bloc's approval for deals.
The EU also wants to be able to fine companies as much as 10% of their yearly revenue if it finds a firm unfairly benefited from a foreign subsidy -- including an unlimited state guarantee or credit line that undercuts European rivals.
The EU warns in the draft that it could cancel government contracts granted to firms that gain an unfair advantage from such subsidies.