Vanguard's 1% U.S. Growth Call Is Rooted in Bond Market's Wisdom
(Bloomberg) -- Vanguard is more bearish on the U.S. economy than most forecasters, heeding what it says is a warning sign from the Treasury market.
The $5.7 trillion asset manager expects lingering trade tensions, unpredictable government policy and a drop in consumer spending to drag down growth to just 1% in 2020, from an estimated 2.3% expansion in 2019. The call is among the most bearish on Wall Street, trailing the median estimate among economists for a 1.8% increase in gross domestic product, according to a Bloomberg News survey.
Treasury yields near multiyear lows are helping to underpin Vanguard's forecast, according to Joseph Davis, the firm's chief economist and global head of the Vanguard Investment Strategy Group. The $16.7 trillion Treasury market is pricing in 2% growth "at best" this year, while the equity market's rally is projecting a figure closer to 3%, he said. For a tried-and-true reading on where the U.S. economy is heading, Davis said he prefers to listen to signals from the bond market.
"History tells us the bond market is generally smarter," Davis said in an interview at Bloomberg's New York headquarters. "If I had to pick one market, I'd pick the bond market."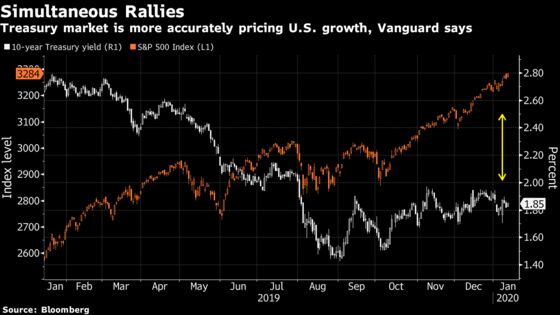 U.S.-China trade tensions and three Federal Reserve interest-rate cuts pushed down benchmark 10-year Treasury yields by roughly 77 basis points in 2019, the biggest drop since 2014. U.S. equities rallied in tandem, with the S&P 500 Index climbing nearly 29% for the gauge's best year since 2013.
That dynamic has continued in 2020's first few trading days. The S&P 500 has added roughly 1.8% year-to-date, while 10-year yields have pushed lower by about 6 basis points to trade near 1.85%.
Of course, the bond market isn't "infallible," Davis says. Vanguard isn't calling for a recession in 2020, despite August's yield curve inversion, which is often considered a harbinger of a U.S. economic downturn beginning in the next 18 months.
With growth cooling and low risks of an inflation spike, Davis is modestly long on fixed-income duration. Additionally, while not anticipating a global growth rebound, he expects overseas equities markets to outperform U.S. shares.
"Our outlook is not pessimistic," Davis said. "It's reasonable."