Ukraine Unexpectedly Raises Rates, Signals Another Hike to Come
Ukraine unexpectedly raised borrowing costs and signaled another increase to come in a bid to address Europe's fastest inflation behind Turkey. The hryvnia gained.
After wrong-footing economists last month by holding steady as inflation surged, the central bank did so again on Thursday -- this time by lifting its benchmark interest rate to 8% from 7.5%.
Only one of eight analysts surveyed by Bloomberg predicted the move, with rest seeing no change after consumer-price growth stabilized in June and with Covid-19's delta variant looming over the economy's post-lockdown recovery.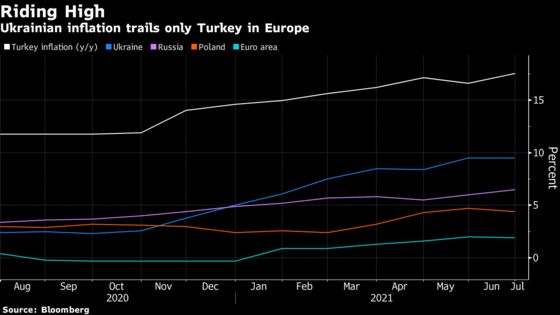 "Fundamental inflation pressure significantly rose," the central bank said in a statement, warning that the indicator could exceed 10% in the near term.
It said the "forecast envisages that the key policy rate will be raised further, to 8.5%, and maintained at that level until the second quarter of 2022, with a view to bringing inflation back to" the 5% target.
The bank also lifted its refinancing rate to 9% and said it would maintain it at 1 percentage point above the benchmark to reinforce the impact of monetary policy.
Ukraine joins central banks from Prague to Moscow in raising rates to combat soaring consumer prices. While its own inflation leveled off at 9.5% in June, its forecasters on Thursday lifted their full-year projection to 9.6% from 8%.
Ukraine's $5 billion loan from the International Monetary Fund, meanwhile, remains on ice after the government failed to meet the program's conditions on time.
Read more: Ukrainian Central Bank Chief Expects More IMF Aid This Year
Governance at the central bank has worried the Washington-based lender, with the arrival of new boss Kyrylo Shevchenko last year sparking large-scale personnel changes, including the resignation of some department heads over his management style, though he's defended the turnover.
This month's appointment of respected economist and former central bank official Serhiy Nikolaychuk as deputy governor overseeing monetary policy may reassure the IMF. But concerns remain over the bank's independence from politicians bent on making mortgages cheaper.