Ukraine Keeps Steady-Rate Plan Despite IMF Inflation Call
Ukraine kept a promise to leave borrowing costs untouched, despite the International Monetary Fund this week calling for tighter monetary policy to stem one of Europe's highest inflation rates.
The central bank, which says consumer-price growth is probably peaking, left its benchmark interest rate at 8.5% on Thursday -- as predicted by all nine economists polled by Bloomberg.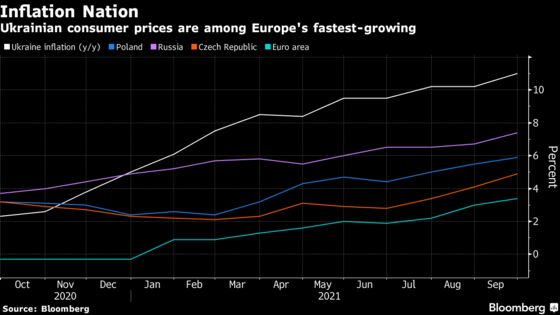 But with inflation at 11% even after four rate hikes this year, the IMF said Wednesday that "monetary policy should become less accommodative." Those remarks followed an earlier statement that a pact to unfreeze Ukraine's $5 billion aid program includes "focusing monetary policy on returning inflation to its target." That goal stands at 5%.
"Ukraine's central bank was one of the first to raise rates this year to fight inflation," Governor Kyrylo Shevchenko told reporters Thursday in an online briefing. "If additional inflationary risks materialize, we're ready to raise the rate and use other monetary tools as early as our December meeting."
The hryvnia slid against the dollar for the first time in a week, while government securities linked to economic performance fell to their lowest level since Oct. 6.
The bank also released updated projections.
2021 inflation forecast kept at 9.6%
Inflation to start easing after peaking in September-October
2021 economic-growth forecast cut to 3.1% from 3.8% on pandemic, energy prices
Rate cuts won't begin before 3Q 2022, compared with previous guidance of 2Q 2022
Key rate seen at 7.5% in late 2022 compared with 6.5% previously
Ukraine's decision comes as soaring prices trigger tighter monetary policy across the region. Following other parts of the European Union's eastern wing, Poland and Romania recently began raising rates. Russia is set for its sixth hike of the year on Friday. 
The outlook for inflation in Ukraine will become clearer when the central bank releases updated forecasts alongside its rate decision. Countering price pressure is a rally in the hryvnia, the region's best-performing currency this year, though the bank  acknowledes risks posed by surging energy prices.
There's more than just inflation at play. While the prospect of $700 million in IMF financing next month is encouraging for investors, the resurgent Covid-19 pandemic amid one of the continent's lowest vaccination rates is imperiling the economy's revival.
What's more, people familiar with President Volodymyr Zelenskiy's plans say he's seeking to replace central bank Governor Kyrylo Shevchenko, adding another element of uncertainty.