Ukraine Slashes Rates to Lowest in Two Years After IMF Pact
(Bloomberg) -- Explore what's moving the global economy in the new season of the Stephanomics podcast. Subscribe via Apple Podcast, Spotify or Pocket Cast.
Buoyed by slower inflation and progress toward receiving billions of dollars in foreign aid, Ukraine cut borrowing costs by twice as much as analysts predicted.
The central bank slashed its key interest rate on Thursday to 13.5% from 15.5%, the lowest level in more than two years. A Bloomberg survey of economists had seen a reduction to 14.5%.
A preliminary deal for a new $5.5 billion loan from the International Monetary Fund, struck at the weekend, boosted the case to continue lowering Europe's highest benchmark interest rate.
The inflation backdrop is also favorable. Consumer-price growth has almost halved in the last 12 months, helped by the hryvnia becoming this year's best-performing currency.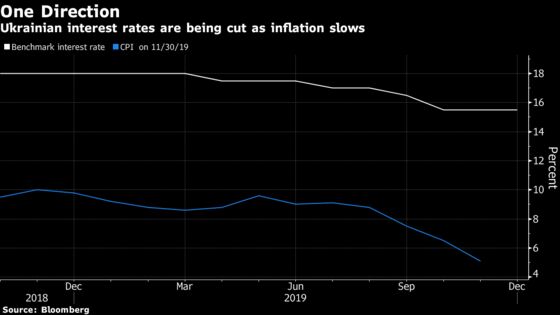 "Reaching the staff-level agreement on the new cooperation program with the IMF is an important milestone in the progress of structural reforms as well as in maintaining macro-financial stability and steady economic growth," the central bank said in a statement.
"The central bank board believes that more active cuts in the key policy rate won't prevent it from maintaining inflation close to its 5% target, while at the same time promoting economic growth," the bank said.
High interest rates and President Volodymyr Zelenskiy's package of market-friendly reforms have lured foreign investors into Ukraine's local bond market. But the central bank's policy has caused concern in some quarters. The government wants borrowing to be cheaper to spur to economic growth, while exporters fret that the hryvnia is too strong.
Governor Yakiv Smoliy said Thursday that the central bank would increase daily purchases of foreign currency to $50 million from £30 million -- a move that may weaken the national currency.
But there are other reasons to worry. The fate of Ukraine's No. 1 lender, Privatbank, remains uncertain following its nationalization in 2016. The bank's billionaire former owners, one of whom is an ex-business partner of Zelenskiy, are challenging the state's takeover and the IMF may await further developments before giving a green light to the loan.
Smoliy said he expects final approval of the program in the first quarter of 2020. Conditions include the passage of legislation preventing the reversal of the Privatbank seizure and the lifting of a ban on sales of farmland.
The central bank, which spearheaded Privatbank's nationalization, listed potential threats it must take into account that include "court rulings" and pressure on staff. A deputy governor complained Thursday that she needs police assistance to get to and from her office due to the presence of protesters.
"If they materialize, these risks could worsen exchange-rate and inflation expectations, and make it harder for Ukraine to access international capital markets at a time when debt repayments are peaking," the bank said.