U.S. Wheat Passes Test, and Exports to China Jump in Trade Boost
A U.S. wheat variety yielded "stellar' flour for noodles and pizza dough at a test bakery in China, spurring the biggest export spot sales to the Asian nation in years.
Cofco, China's biggest food company, bought 672,000 metric tons of hard red winter wheat from the U.S. following the accord this year between Washington and Beijing on boosting agriculture trade, Arlington, Virginia-based U.S. Wheat Associates said Friday in a statement.
The group worked with flour mills in China and the Sino-American Baking School in Guangzhou to process the grain as a single flour and blends in combinations with U.S. hard red spring and soft white varieties.
"After some very intensive work in the test bakery, the hard red winter single flour and blends cooperated so well our team decided to run some tests twice to confirm the stellar results they observed," Jeff Coey, the U.S. Wheat Associates regional vice president for China and Taiwan, said in the statement.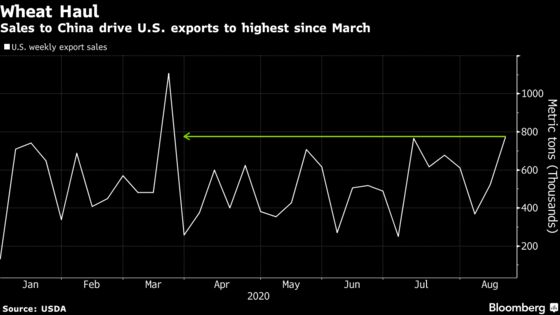 China, the world's top wheat producer, often imports supplies to blend with domestic grain.
As of Aug. 28, total commitments of hard red winter wheat to China stood at 794,572 tons, including 123,000 tons sold last week, U.S. Department of Agriculture data showed. That's the most in records going back 20 years.