U.S. Warship Sails Taiwan Strait After Trade Deal, Election
(Bloomberg) -- A U.S. warship sailed through the Taiwan Strait, after President Donald Trump signed a trade deal with China and Taiwan re-elected a leader seeking greater American military support to counter a threat from Beijing.
The U.S. Navy's trip through the narrow waterway separating the island from the Chinese mainland Thursday was announced in a statement by the Taiwanese Ministry of National Defense. The U.S. Seventh Fleet confirmed that a "routine" Taiwan Strait transit was conducted by the USS Shiloh, a Ticonderoga-class guided-missile cruiser.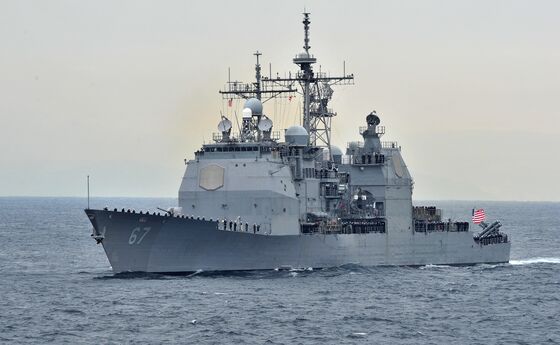 "The ship's transit through the Taiwan Strait demonstrates the U.S. commitment to a free and open Indo-Pacific," said Lieutenant Joe Keiley, a fleet spokesman. "The U.S. Navy will continue to fly, sail and operate anywhere international law allows."
The passage came five days after the island's China-skeptic president, Tsai Ing-wen, won a landslide re-election victory. During her first term, Tsai has courted increased U.S. military support to counter a pressure campaign led by China, which views the island as part of its territory.
Foreign Ministry spokesman Geng Shuang told a regular news briefing Friday in Beijing that China had observed the ship's transit, according to state broadcaster China Central Television. Geng urged the U.S. to follow the "one China" principle and "cautiously handle" the Taiwan issue.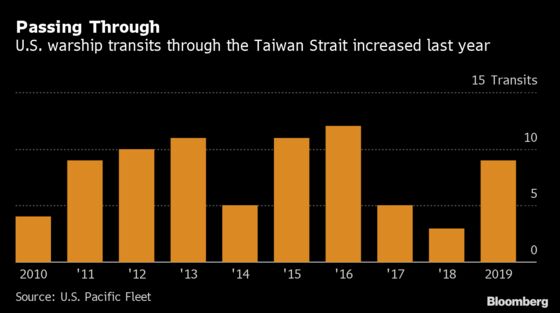 The U.S. Navy conducted nine transits through the Taiwan Strait in 2019, the most since former President Barack Obama's final year in office, when American warships passed through the waterway 12 times.
On Wednesday, Trump and President Xi Jinping sealed a "phase one" trade pact as part of a broader attempt to deescalate trade tensions that have roiled global markets for more than a year. The deal is expected to do little to resolve broader strategic tensions between the U.S. and an increasingly powerful China.