U.S. Trade With China Fell in July Despite Truce in Tariff War
America's merchandise trade with China continued to sag in July despite a tariff-war truce between the world's two largest economies that's since evaporated as President Donald Trump escalated levies and China retaliated.
U.S. exports of goods to the Asian nation fell 2.7% from the prior month while imports declined 1.9%, narrowing the trade gap between the countries to a seasonally adjusted $29.6 billion, according to data Wednesday from the Commerce Department. The overall U.S. deficit in goods and services trade shrank by less than estimated to $54 billion, a three-month low.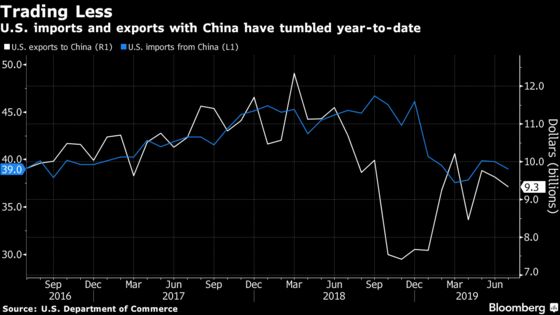 China, the largest U.S. trading partner last year, has fallen behind both Mexico and Canada in 2019 amid the increasing tariffs and heightened uncertainty about when -- or if -- the trade war will be resolved. The conflict has muddled companies' supply chains and stymied plans for capital investment, with U.S. manufacturing in a recession in the first half and rising concern that a broader downturn is coming.
On top of that, a strong dollar and a weakening global outlook continue to damp demand for U.S. exports more broadly, though steady consumer spending is supporting imports.
While trade with China declined, U.S. merchandise imports and exports with Canada and Mexico were relatively little changed on the month.
The U.S.-China trade picture looked much different in July from now. Trump and Chinese leader Xi Jinping declared a tentative truce in late June, and U.S. Trade Representative Robert Lighthizer and Treasury Secretary Steven Mnuchin traveled to China for negotiations at the end of July.
But the trade war escalated swiftly afterward as Trump announced tariffs on an additional batch of Chinese goods, then increased those levies before they took effect. A 15% U.S. tariff on about $112 billion in Chinese products began Sept. 1, joining the existing 25% tax on about $250 billion in other goods. A separate set of about $160 billion in Chinese merchandise will be hit by a 15% levy on Dec. 15.
Chinese and U.S. officials had yet to agree on a date for a visit to Washington this month, and the two countries still have not agreed on basic terms of re-engagement, according to reporting by Bloomberg News earlier this week.
So far this year, the U.S. merchandise deficit with China -- which Trump sees as an indicator the Asian nation is taking advantage of America -- has narrowed to a seasonally adjusted $209.5 billion from $234.9 billion in the same seven months of 2018. Exports have dropped 17.3% while imports have tumbled 12.4%.
Overall U.S. exports of goods and services rose 0.6% in July from the prior month to $207.4 billion, with gains in consumer goods, capital goods and autos. Imports fell 0.1% to $261.4 billion, with shipments of capital goods at the lowest since October 2017 amid declines in computers and semiconductors.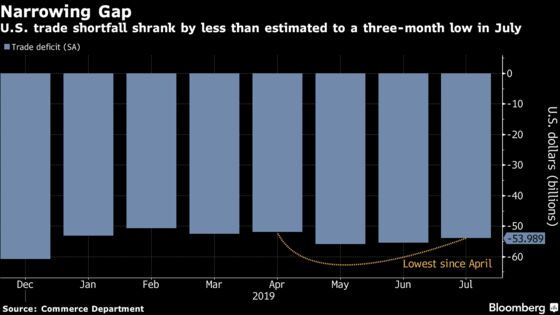 On an unadjusted basis, the goods deficit with the European Union was a record $20.1 billion in July, driven by an all-time high in imports, according to the report. That may give Trump more fodder for his repeated statements that the dollar is too strong against the euro and the Federal Reserve needs to cut interest rates more aggressively.
Net exports subtracted 0.72 percentage points from the annualized pace of gross domestic product growth in the second quarter as the trade deficit widened.
The median estimate of economists surveyed by Bloomberg called for the overall trade deficit to narrow to $53.4 billion.
After adjusting for inflation, which renders the numbers used to calculate gross domestic product, the goods trade deficit narrowed to $85.5 billion from $86.2 billion in the prior month.
The real petroleum gap increased to $9.3 billion from $5.8 billion as exports fell and imports rose. Excluding petroleum, the goods trade deficit shrank to $71.5 billion.
Exports and imports of goods account for about three- fourths of America's total trade; the U.S. typically runs a deficit in merchandise trade and a surplus in services.