U.S. Trade Gap Hits Six-Month High as Soybean Exports Plunge 28%
(Bloomberg) -- The U.S. trade deficit widened in August to the biggest in six months as soybean exports plunged and a measure of the gap with China hit a record, showing how the Trump administration's trade war is dragging on economic growth.
The gap in goods and services trade increased 6.4 percent to $53.2 billion, from a revised $50 billion in the prior month, Commerce Department data showed Friday. Imports rose 0.6 percent and exports fell 0.8 percent. Soybean exports dropped $1 billion, or 28 percent, to $2.58 billion, reversing a run-up earlier this year ahead of retaliatory levies from China.
A widening trade deficit is set to drag on the economy in the third quarter after a narrower gap helped boost the pace of expansion in the prior period to the fastest since 2014. The latest figures show how President Donald Trump's tariffs on goods from China and other nations, which have raised prices and disrupted some businesses, are starting to weigh on an otherwise solid pace of U.S. growth.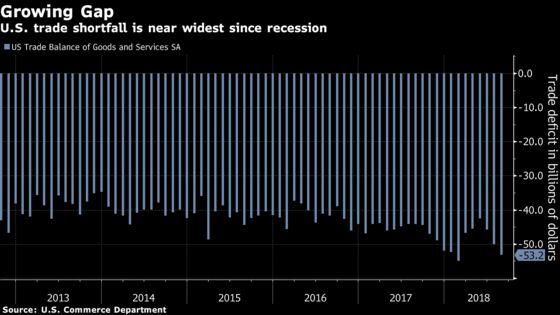 The median estimate of economists surveyed by Bloomberg called for a trade deficit of $53.6 billion. Preliminary figures last week had showed a wider trade gap in merchandise.
Exports fell to $209.4 billion, spanning declines in other items including crude oil and petroleum products. Imports rose to $262.7 billion, boosted by consumer goods and automobiles.