U.S. Spares China From Yuan-Manipulator Label Amid Trade War
(Bloomberg) -- The Treasury Department stopped short of declaring China a currency manipulator in its semi-annual report on foreign-exchange rates, averting an escalation of a trade war while serving notice that the U.S. will closely watch the yuan after its recent slide.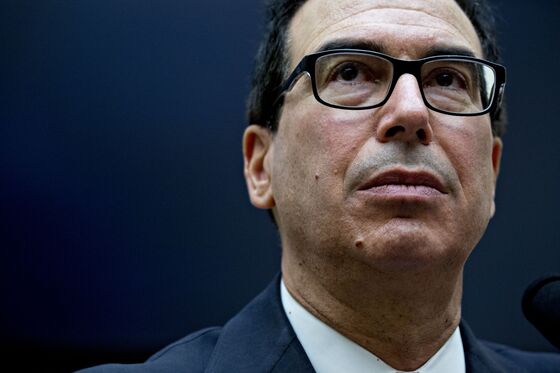 "Of particular concern are China's lack of currency transparency and the recent weakness in its currency," Treasury Secretary Steven Mnuchin said in a statement. "We will continue to monitor and review China's currency practices, including through ongoing discussions with the People's Bank of China."
While Treasury said in the report that direct intervention by China's central bank has recently been "limited," the U.S. is "deeply disappointed" that the nation doesn't disclose its foreign exchange intervention.
No major trade partner was designated a currency manipulator, according to the report, which was released Wednesday by the Treasury. Still, the department dialed up criticism of China's state-driven economic model.
"Real exchange rate movements in 2018 -- particularly the strengthening of the dollar and the decline in China's currency -- would, if sustained, exacerbate persistent trade and current account imbalances," according to the report. The Treasury said China's economic model "which continues to rely significantly on non-market mechanisms, is posing growing risks to the long-term global growth outlook."
The decision not to label China a manipulator stands in contrast with public comments made by President Donald Trump, who has repeatedly accused China of gaming the value of the yuan to gain an advantage in trade. While formally declaring China a manipulator wouldn't have triggered sanctions or other U.S. penalties, it would have worsened an already tense relationship between the world's two biggest economies.
Trump has slapped tariffs on $250 billion in Chinese goods and China has retaliated with tariffs on about $110 billion of U.S. products. On top of the escalating trade war, Trump recently accused China of meddling in the 2016 elections, as well as the upcoming midterms in November. Earlier Wednesday, Trump said he plans to withdraw from an agreement that allows Chinese shippers to send products to the U.S. at discounted rates.
Mnuchin has said since July that Treasury is concerned about the yuan's recent drop. The currency has slid about 9 percent against the dollar in the last six months, making it one of the worst-performing Asian currencies this year and raising speculation that China has been deliberately weakening its currency as trade tensions with the U.S. worsen.
Mnuchin determined in the report released Wednesday that China hasn't crossed three thresholds set by Congress that determine whether a country should be formally designated a currency manipulator. They include a minimum $20 billion trade surplus with the U.S.; a current account surplus in excess of 3 percent of gross domestic product; and repeated interventions in currency markets.
"If they'd found a way to label China, it would have hurt sentiment further," said Shahab Jalinoos, Credit Suisse Group AG's global head of FX trading strategy. "But this being a yawn, if anything it should make markets more comfortable" with emerging market risk.
The offshore yuan strengthened 0.1 percent to 6.9243 per dollar as of 5:31 p.m. in New York.