U.S. Soybean Crop Is Smaller Than Expected, Breaking Price Slump
(Bloomberg) -- Soybean bulls got a surprise boost after a key report forecast a smaller-than-expected U.S. harvest. 
Production, still pegged to be the second biggest ever, was lowered from last month's estimate, which signaled a record large crop. The cut stemmed from yields in big growing states like Iowa that ended up less robust than anticipated, according to the U.S. Department of Agriculture's November supply-and-demand report, or WASDE. 
"Everything was exactly the opposite of what the trade was expecting," said Jack Scoville, vice president of Price Futures Group Inc. in Chicago.
Soybean futures broke a four-day losing streak in Chicago to rise the most in almost three weeks to $12.12 a bushel.  
America's soybean export outlook was trimmed as well amid sluggish sales to China. The slow pace has farmers nervous as they plan for next year's crop. Surging fertilizer prices could lead to a bumper soy harvest next year as producers may shift away from more chemically reliant corn.
In the nearer term, plantings in No. 1 grower Brazil are ahead of schedule. The South American nation should crowd out U.S. exporters early next year as beans become ready to ship. That means the USDA may need to further reduce its U.S. export forecast. 
"Those still might be too high," Don Roose, president of U.S. Commodities, said in an interview.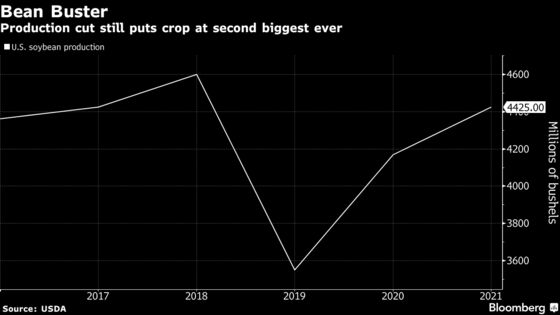 In general, soybean crops have been resilient, weathering everything from drought to floods in the U.S., the second biggest global producer.  
Weather woes have helped drive crop prices to near-decade highs this year. That's contributed to increasing food inflation. Soy supplies are a key factor in whether costs will continue to climb as the beans are used as feed for animals raised for meat.
A United Nations index tracking staples from grains to vegetable oils climbed 3% to a fresh decade high in October, threatening even higher grocery bills for households that have already been strained by the pandemic. 
In other crops, the outlook for U.S. corn production was raised amid increased use in making ethanol as fuel demand surges. The corn harvest is still on track to be the second biggest on record, according to the latest USDA estimate. Corn ended the trading day in Chicago up, snapping five sessions of losses. 
For wheat, the USDA ratcheted up its global trade figure to 203.2 million tons, an all-time high. Read more here. 
Wheat futures in the U.S. and Europe all rose on Tuesday. 
Wheat soared last week, with futures in Paris hitting a record and those in the U.S. jumping to the highest levels in a decade or more. Weather woes in key growing areas have led to a shortage of grains, driving up prices of wheat used in baked goods and livestock feed. 
Click here for the WASDE live blog