U.S. Small-Business Optimism Hits Two-Year Low Amid Shutdown
(Bloomberg) -- Sentiment among U.S. small businesses slumped in January to the lowest level since Donald Trump became president, as the economic outlook weakened amid the longest-ever U.S. government shutdown.
The National Federation of Independent Business's optimism index fell 3.2 points to 101.2, the lowest since November 2016, according to a report. That's below the median estimate of economists surveyed by Bloomberg. The net share of companies expecting business conditions to improve in six months declined to 6 percent, the lowest since October 2016 and down from a post-election peak of 50 percent.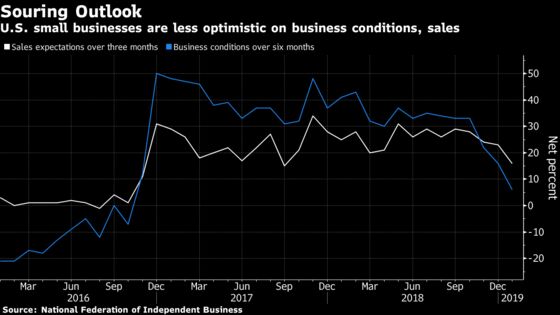 The survey suggests that the political stalemate in Washington over Trump's demand for a U.S.-Mexico border wall was weighing on business owners. The 35-day shutdown, which ended Jan. 25, halted loan applications while the Small Business Administration was closed. Additionally, many contractors suffered from the shutdown, along with other small firms that rely on federal workers, such as restaurants located near offices.
Not all measures of optimism declined. The share of respondents planning a capital expenditure in the next three to six months ticked up, suggesting businesses still expect steady demand, even as the proportion saying it's a good time to expand fell to the lowest since 2017.
Sentiment also dipped during the previous lengthy government shutdown in 2013 before recovering. That suggests the NFIB index may rebound if further closures are averted and the economy remains healthy.
The NFIB said political uncertainty is weighing on businesses, with the group's Uncertainty Index jumping 7 points to 86, the highest since March 2017.
The January survey was based on 1,740 responses from NFIB members, according to the group.
The report was posted late Monday on the NFIB website, ahead of the scheduled release Tuesday at 6 a.m. New York time.