Grain Traders Shrug Off U.S.'s Outlook for Bigger Supplies
(Bloomberg) -- Corn and soybean futures bounced back Friday with grain traders moving into the market after the latest U.S. crop forecast failed to offer any surprises.   
The U.S. Department of Agriculture's supply-and-demand report, or WASDE, said farmers would reap bigger soybean and corn harvests this season, and inventories would rise. That may be offset by higher overseas sales later this year.
Corn for December delivery settled the day up 1.5% at $5.175 a bushel, the biggest gain at the close in more than two weeks. Soybeans also rose and benchmark wheat fell on the Chicago Board of Trade. Traders are weighing bigger production against the world's appetite for U.S. crops, especially top importer China. 
"The market will need to balance the idea of an improving yield trend versus the hope for better demand," said Ted Seifried, chief market strategist at Zaner Ag Hedge in Chicago. "Demand will be the bigger question going forward."
READ MORE: USDA Boosts Corn, Soybean Production Forecasts: WASDE Takeaways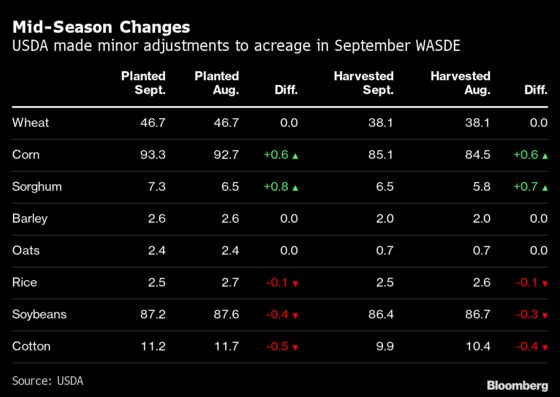 While the WASDE supply increases were more than analysts expected, they aren't a surprise. Bearish sentiments have prevailed after prices peaked at near-decade highs in May. Rains in August helped crops, and exports were hurt after Hurricane Ida damaged port infrastructure near New Orleans, just as the American harvest begins.
Because prices take time to ripple through supply chains, the bigger supplies and general downturn in prices could eventually translate to lower grocery bills. High commodity prices earlier this year have been contributing to food inflation around the globe.
Corn prices are down about 20% from a peak in May. Futures on Friday briefly touched $4.975 a bushel, the lowest since January for the most-active contract.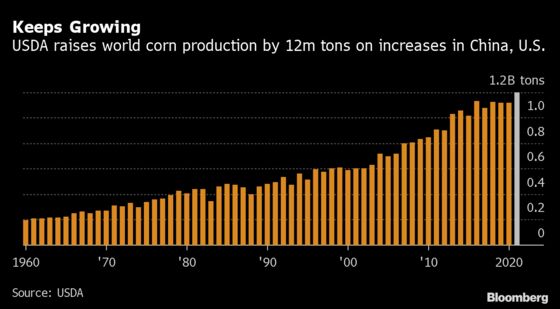 U.S. Crop Estimates From USDA September Report: WASDE
World Crop Estimates From USDA September Report: WASDE
USDA Agricultural Supply and Demand Report: TOPLive Transcript
World Corn Output to Hit Record After Price Rise: Chart
Higher U.S. Soy Exports Offer Relief From Bigger Inventories
Russian Wheat Exports May Slow as Tax Rises, Grain Union Says
Russia Harvested 70M Tons of Wheat so far This Year: Ministry
U.S. Export Sales of Soybeans, Corn and Wheat by Country (Table)
U.S. Export Sales of Pork and Beef by Country (Table)