Jobs Report Validates Fed on Both Patience and Economic Strength
(Bloomberg) -- The Federal Reserve's decision to pledge patience on future interest-rate hikes amid a healthy economic expansion won validation from a jobs report that showed robust hiring and measured wage gains.
Hiring jumped by the most in almost a year, topping all forecasts in a Bloomberg survey of economists, albeit after a downward revision to the prior month, a Labor Department report showed Friday. While pay increases cooled from December, annual gains firmed up in recent months without signaling major inflation pressures that would worry Fed officials.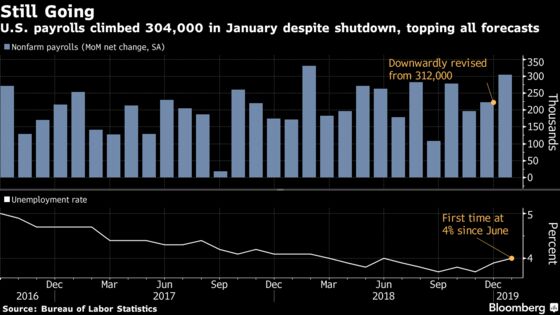 "The trend looks very favorable in terms of momentum of job growth," said JPMorgan Chase & Co. chief U.S. economist Michael Feroli. "Right now we don't have an inflation problem," he said, though "if we keep getting these strong job numbers eventually that looks like a possibility."
Stocks rose, the dollar was higher and Treasuries fell on Friday following the report.
Companies are adding workers and boosting pay to help bolster consumer spending and the economy, which is already roughly at the central bank's goal of full employment. At the same time, the highest participation rate since 2013 and the cooler pace of earnings gains indicates the labor market has room to keep tightening without a flare-up in inflation that would create a need for the Fed to end its newfound patience on holding rates steady.
Highlights of the January U.S. Jobs Report:
Payroll gain of 304,000 tops 165,000 estimate; December revised down to 222,000 from 312,000
Unemployment rate rose to 4%, pushed up by the government shutdown
Average hourly earnings rose 0.1% from prior month, below estimate for 0.3%; up 3.2% from a year earlier, which matched projections but down from upwardly revised 3.3% in December
Even so, Fed officials will "probably sit on their hands" for six months or longer, Feroli said. Policy makers this week indicated they won't hike again until inflation accelerates.
Meanwhile, other data showed a more stable outlook for manufacturing at the start of 2019. The Institute for Supply Management index unexpectedly rose to 56.6 in January, exceeding all economist estimates in a Bloomberg survey and rebounding after the steepest drop in a decade, data showed Friday. Measures of new orders and production snapped back following steep declines.
The increase in the jobless rate reflected the shutdown, as the number of unemployed on temporary layoff rose by 175,000, many of them federal workers, according to the department. While the shutdown furloughed government workers, heightened uncertainty and weighed on economic activity, there were few other signs it hurt the job market last month.
The Labor Department found "no discernible impacts" of the shutdown on the establishment survey's January estimates of employment, hours or earnings, acting labor-statistics commissioner William Wiatrowski said in a statement. Still, the shutdown likely hit some private industries, and some federal workers were probably misclassified as employed but absent from work instead of unemployed on temporary layoff, Wiatrowski said.
In addition, the number of Americans working part-time for economic reasons had an unusually large jump of about 500,000, which Wiatrowski said was almost all in the private sector and may reflect the shutdown. That pushed up the U-6, or underemployment rate, to 8.1 percent from 7.6 percent.
What Our Economists Say...
Monetary policy makers may have been spooked by economic and financial developments at their first meeting of the year, but the labor market remains on very sound footing. Payrolls surged, shrugging off any fallout from the government shutdown. Average hourly earnings -- while easing off of the cyclical highs registered at year-end -- continue to suggest that labor costs are mounting as the economy grows above trend.

-- Carl Riccadonna, Yelena Shulyatyeva and Tim Mahedy, Bloomberg Economics

Read more for the full reaction note.
Hundreds of thousands of federal employees who were furloughed were still included in the payrolls tally because they will collect back pay, though they would be considered unemployed in the household survey. But workers in related businesses, such as contractors, may have lost hours and earnings they may never fully recoup.
The impact of the closure may already be abating: Consumer sentiment fell by less than forecast, according to the University of Michigan's final January index released Friday.
"For all the concerns about underlying weakness in the economy, of which there aren't that many signs in the hard data, I think this suggests" that the economy is "actually still strong," Megan Greene, chief economist at Manulife Asset Management, said on Bloomberg Television.
In January, gains in hiring included construction, with the biggest increase in almost a year. Leisure and hospitality, education and health, transportation and warehousing and retail all had solid advances. Manufacturing payrolls increased by 13,000, a five-month low.
While the job market looks healthy, it'll be hard to match last year's strength in employment, as the economy is projected to expand at a more moderate pace in 2019. The tax-cut tailwinds are likely to fade, the state of the trade war remains uncertain and global growth is cooling. In addition, businesses say the shortage of skilled workers is limiting plans to expand their workforce.
"If we get further evidence that the economy is strong -- and surveys rebounds and sentiment heals -- the conversation will once again shift to further hikes," Bank of America Corp. economists Joseph Song and Michelle Meyer wrote in a note. "But this won't likely happen immediately. The committee will likely stick with its call for patience and monitoring the data further for longer."