U.S. Forgoes EU Boeing-Airbus Tariff Change in Nod to Talks
(Bloomberg) -- President Joe Biden's administration is refraining from a new tariff rotation in its dispute with the European Union over illegal aid to Boeing Co. and Airbus SE, a move that could help lay the groundwork for resolving a 17-year dispute.
The U.S. Trade Representative and the nation's aircraft industry decided that it's "unnecessary at this time" to revise the tariffs on $7.5 billion of EU products, according to a notice in the Federal Register published Thursday. Rotating the products that face tariffs in a so-called carousel strategy is an aggressive tactic designed to maximize political impact and squeeze another government into making concessions.
U.S. Trade Representative Robert Lighthizer and his EU counterpart were discussing a negotiated solution before the U.S. upended the process by imposing tariffs on additional products in the final days of the Trump administration.
Now, with Biden in office, the two parties have an opportunity to reach an agreement on aircraft subsidies within six months of his Jan. 20 inauguration, Sabine Weyand, director-general for trade at the European Commission, said in January.
In October, the World Trade Organization gave the EU the green light to slap duties on some $4 billion in goods from the U.S. The approval came a year after the WTO approved U.S. application of tariffs on about $7.5 billion in imports, including on European products completely unrelated to the aircraft spat including French wine and Scotch whisky. The duties were among the largest sanctioned by the Geneva-based arbiter to date.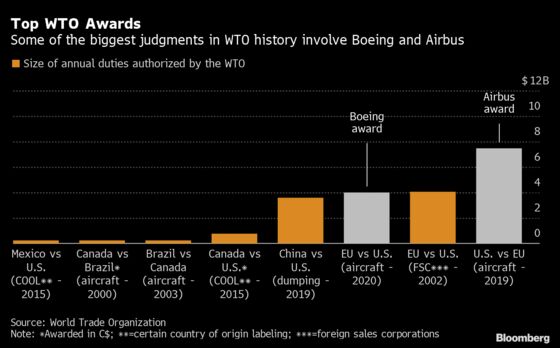 In December, the Trump administration imposed tariffs on additional European products including some aircraft-manufacturing parts, certain wines, and some cognac and other grape brandies from France and Germany. The overall value of goods being hit remains $7.5 billion, with the U.S. adjusting the product coverage by less than the full amount justified "in order not to escalate the situation," the USTR said at the time.
The U.S. decision to skip any EU tariff revisions comes a week after the Biden administration joined the global consensus by backing Ngozi Okonjo-Iweala to lead the WTO, abandoning previous U.S. opposition under Trump, a decision welcomed by the EU. The bloc also has called on the U.S. to remove duties on European steel and aluminum based on controversial national-security grounds, signaling the bloc would end its retaliatory levies in return.