U.S. Manufacturing Surveys Show More Price Pressures, Demand
(Bloomberg) -- A pair of Federal Reserve regional manufacturing surveys this week illustrate how inflationary pressures continue to build as demand powers ahead and further stresses supply chains.
The Philadelphia Fed's November gauge of costs for materials used by factories jumped to the second-highest level since 1979, while a measure of prices received by area manufacturers surged to a 47-year high.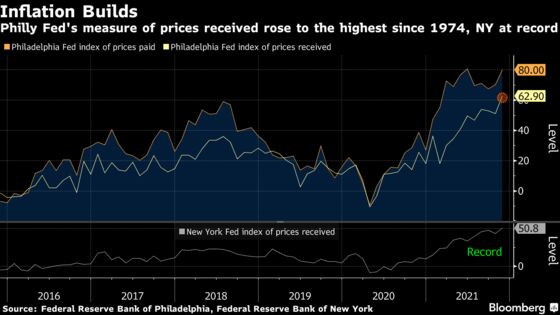 The Thursday figures follow similar readings from the New York Fed earlier this week. Prices received in November by firms in the Empire State were the highest in data back to 2001, while prices paid for materials increased to the second-highest level on record.
Meantime, demand continues to heat up. The Philadelphia Fed's orders index advanced to the highest level since 1973. The New York Fed's measure of new orders also increased and remains well above pre-pandemic levels.
"The Philadelphia Fed regional manufacturing survey results for November point to an economy that continues to overheat," Stephen Stanley, chief economist at Amherst Pierpont Securities, said in a note. "The momentum of inflation continues to build."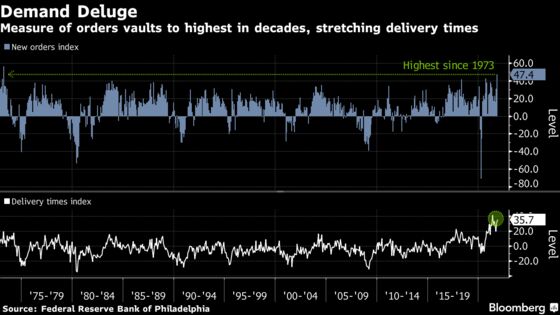 With demand outstripping capacity amid precarious global supply networks, delivery times are being stretched. The Philadelphia Fed's measure climbed to the second-highest on record.
In response to a special question in the Philadelphia Fed's survey, prices received will rise 5.3% over the next year, up from the 5% projection made in August. Firms also see a 4.8% rise in worker compensation, notably higher than the 4% expected in the previous survey.