U.S. Looks at Central America Youth Corps Idea to Slow Migration
(Bloomberg) -- As President Joe Biden's administration looks to address the root causes of migration, an El Salvador-based organization has proposed the creation of a public-service program for tens of thousands of youth in Central America, according to people familiar with the plan.
The idea is known as Central AmeriCorps, a reference to the U.S. public-service program that involves 270,000 participants each year. It calls for 60,000 teenage and young adult participants in El Salvador, Honduras and Guatemala to receive employment opportunities, training and skills, as well as incentive to stay in the region, according to the people, who asked not to be identified because the proposal hasn't been released publicly.
Participants would be paid a stipend of about $250 a month, with the program -- including overhead -- costing $270 million a year. It would be funded initially by the U.S. Agency for International Development, known as USAID, with the possibility of companies and other governments later providing some money, the people said.
Glasswing, a Salvadoran non-governmental organization, made a smaller original proposal that allies have since scaled up in talking with USAID, said Celina de Sola, the group's co-founder. It's based on the NGO's work with youth and communities in the three countries, known as the Northern Triangle, she said.
"We're all trying to identify potential ways to address the lack of opportunity, the insecurity, instability," she said.
USAID is aware of the Central AmeriCorps idea, an agency press official said, while declining to comment further. All proposals to partner with USAID in Central America are subject to the agency's rigorous vetting and evaluation processes, the official said.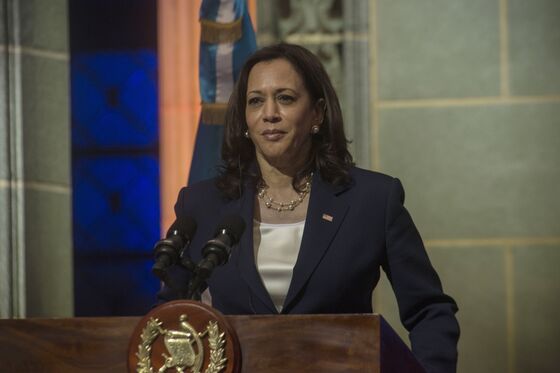 The program is among a number of options being considered for development in the region, according to one of the people.
Vice President Kamala Harris traveled to Guatemala and Mexico on Monday and Tuesday, warning people not to migrate illegally to the U.S. The Biden administration will intensify efforts to combat corruption in the region, she said following a meeting with Guatemalan President Alejandro Giammattei.
"Do not come. Do not come," Harris said at a news conference in Guatemala City. "If you come to our border, you will be turned back."
Harris's trip is part of the administration's effort to address migration from Central America after more than 200,000 attempts by migrants from the region to enter the U.S. since the start of the year. President Joe Biden directed Harris to lead the effort to stem the surge in migration.
Migration from the region has been driven by economic and social disparities between Central America and the U.S. that were exacerbated by the coronavirus pandemic.