American Life Expectancy Falls Again as Opioid Deaths, Disease Rise
(Bloomberg) -- U.S. life expectancy has fallen again, according to the Centers for Disease Control report on 2017 deaths. The decline is driven by an increase in deaths from drug overdoses, suicides, diabetes, and influenza and pneumonia.
Overall, heart disease and cancer remain the two leading causes of death. Unintentional injuries, a category that includes drug overdoses, is the third leading cause of death.
In 2017, a total of 2,813,503 resident deaths were registered in the United States.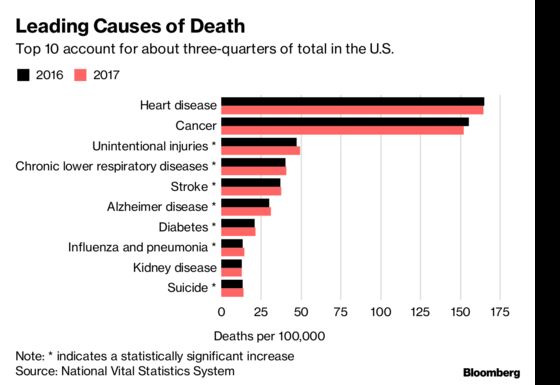 A baby born in 2017 can expect to live 78.6 years, which was down from 78.7 years in 2016. The life expectancy for a female born in 2017 is 81.1 -- five years longer than males.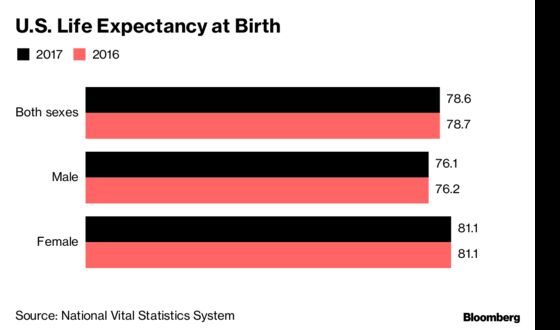 In 2017, 65-year-old males were projected to live another 18.1 years and females 20.6 more. These figures are unchanged from 2016 estimates.
Age-adjusted death rates increased for non-Hispanic white males and females and black males. The rates decreased for non-Hispanic black females.
In 2017, there were 70,237 drug overdose deaths in the United States, an increase of 9.6 percent from a year earlier. Overdose death rates were highest in West Virginia, Ohio, Pennsylvania and Washington, DC.
Deaths from synthetic opioids (such as fentanyl), other than methadone, rose 45 percent between 2016 and 2017
The rate of drug overdose deaths involving synthetic opioids, other than methadone, is up 30-fold from 1999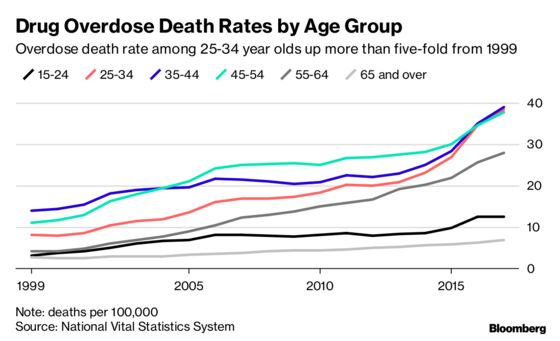 From 1999 through 2017, the age-adjusted suicide rate increased 33 percent, from 10.5 to 14.0 per 100,000. The age-adjusted suicide rate for the most urban counties in 2017 was 16 percent higher than in 1999, while the rate for the most rural counties in 2017 was 53 percent higher than the comparable rate in 1999. Overall, suicides rose to 47,173 in 2017 from 44,965 a year earlier.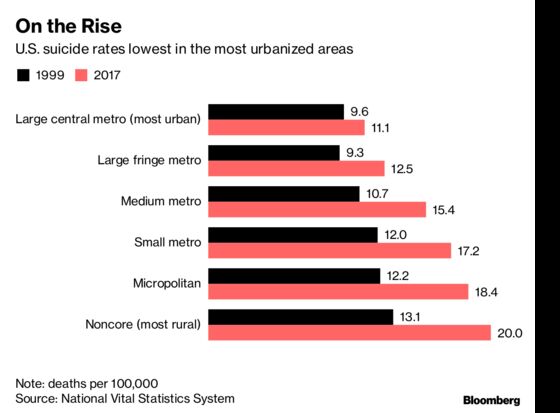 The suicide rate for females increased 53 percent from 1999 to 2017 -- increasing on average by 3 percent per year over the last decade. For males this change has been smaller, but the suicide rate itself is almost four times greater than that for females. Suicide became the second leading cause of death for ages 10–34 in 2016.