Jobs Report Will Show Delta's Impact on U.S. as Fed Weighs Taper
Investors will be watching Friday's jobs report for the latest read on the health of the labor market as Federal Reserve officials debate winding down monetary support later this year. 
The U.S. probably added 725,000 jobs in August, a more moderate pace compared to each of the prior two months but stronger than gains seen early this year, according to the median forecast of economists surveyed by Bloomberg. 
A strong report would signal that businesses are having more success hiring after months of limited labor supply. But risks related to the delta variant could mean a softer-than-expected payrolls print and complicate the Fed's timeline for tapering asset purchases.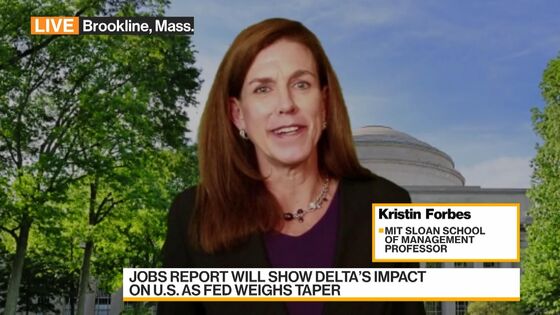 "The softening in employment activity would be consistent with other economic data that have weakened since the surge in Covid case counts due to the delta variant," Bank of America Corp. economists Joseph Song and Stephen Juneau said in a note. They forecast a 600,000 gain in August payrolls.
"Our jobs forecast if realized is likely to be soft enough to leave the Fed wanting to monitor additional data before tapering," the economists said.
The report will also give an indication of whether more Americans are looking for jobs after more than half of states ended federal enhanced unemployment benefits early. Labor-force participation -- the share of Americans either working or looking for work -- has been stuck near the lowest level since the 1970s for nearly a year.
Read more: U.S. PREVIEW: Sprint or Stumble? Jobs to Approach Taper Line
Here's what Bloomberg Economics is forecasting for the jobs report:
A gain of 725,000, matching the consensus estimate. The range of forecasts spans from 400,000 to 1 million
Expect school-related hiring to be a notable contributor, albeit at a weaker rate than in July
A decline in the unemployment rate to 5.2% from 5.4% prior, also matching the consensus. After a big step-up in June and July, higher participation among prime-age individuals would signal a important move toward easing labor-supply frictions. That will tend to slow the unemployment rate's decline, not necessarily a negative signal
A 0.5% gain in average hourly earnings from the prior month and 4.2% from a year ago. The July report and business surveys showed employers are paying more to fill positions. Whether that continues as labor supply increases will be of keen attention to the Fed, including the breadth of upward pressure
A slight drop in average weekly hours to 34.7, a workweek still nearly 20 minutes longer than two years ago