U.S. Job Report Likely to Show Hot 2020 Start, Cooler Past
The U.S. job market probably got off to a healthy start in 2020 but may also lose some of the luster President Donald Trump boasted about this week.
January figures due Friday are projected to show U.S. employers added about 163,000 jobs -- less than last year's 176,000 average but still enough to keep unemployment at a half-century low. Wage gains are forecast to rebound from a surprise slump in December.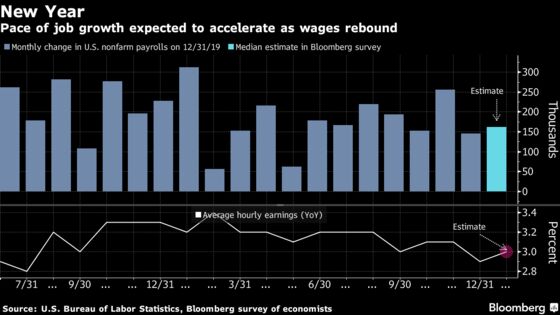 Annual revisions also due Friday are anticipated to trim the robust job gains of recent years. A preliminary projection released in August showed the number of workers added to payrolls will likely be revised down 501,000 in the year through March, or almost 42,000 a month. Friday's report will include historical revisions for all of 2019.
For payrolls, revisions may show "the past wasn't as rosy as we thought," said Ward McCarthy, chief financial economist at Jefferies LLC. "That's again another reason to think that the deceleration in payroll growth is something we're going to be living with going forward."
Median Estimates for January Jobs Report
Job gain of 163,000 with private payrolls up 152,000 and factory employment down
Unemployment rate holding for third month at 3.5%, lowest since 1969
Average hourly earnings up 0.3% from prior month, 3% from year earlier
Squeezed by a cooling U.S. economy, lingering uncertainty about trade and global growth, dwindling numbers of available workers, and now a coronavirus outbreak, the slowdown in hiring is broadly in line with what economists expect for the year.
At the same time, consumer optimism is near historic highs and U.S. stocks closed at a record Wednesday, though Treasury yields remain near multi-year lows amid concerns about the coronavirus and what it means for already subdued economic projections.
Other reports this week showed strength the jobs engine continues to motor ahead: Filings for unemployment benefits fell last week to the lowest level since mid-April, while the ADP Research Institute on Wednesday reported U.S. companies added the most jobs in January since 2015. The National Federation of Independent Business said its index of compensation jumped in January to the second-highest level on record.
Trump, in his State of the Union address Tuesday, highlighted numbers such as 7 million jobs created since his election and the lowest recorded unemployment levels for African Americans, Hispanics and Asian Americans.
But even a big downward revision to payrolls won't change the overall picture of labor-market tightness. The participation rate for prime-age workers, or those ages 25 to 54, is the highest in a decade. Federal Reserve Chairman Jerome Powell has reiterated his desire to sustain the expansion "so that the strong job market reaches more of those left behind." Companies complain about finding qualified workers, and job openings, though declining, still outnumber the unemployed.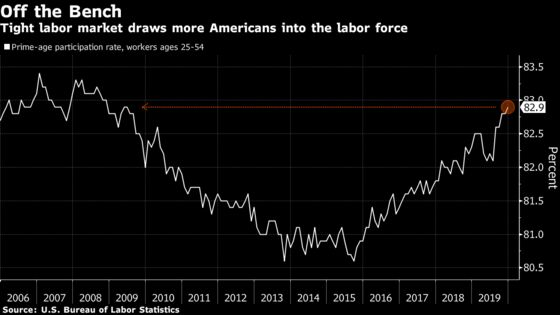 "You can't change that story at all with revisions," said Jennifer Lee, a senior economist at BMO Capital Markets. "Just perhaps the pace."
Bolstered by Republican tax cuts, 2018 saw the strongest annual job gains since 2015. The 2.1 million new jobs created last year were both stronger than what economists had initially expected but also the fewest since 2011.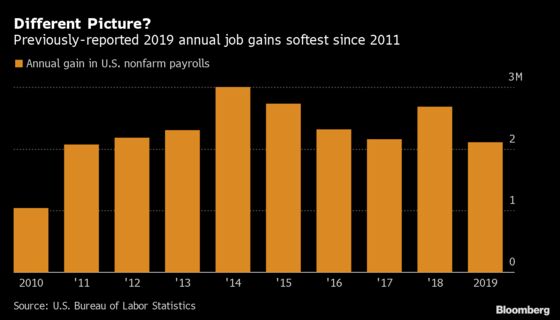 While tax-cut advocates say the benefits will last for years, a larger-than-expected downward revision to annual payrolls would suggest the effects were more of a temporary boost, said Michael Gapen, chief U.S. economist at Barclays Plc.
"There's not a lot of virtuous cycle left to go in terms of employment begetting greater consumption and therefore employment. That story has kind of played out. The tax cuts have played out," Gapen said. "The question would then be, well, where do we go from here? What causes growth going forward?"
Most economists don't see a recession this year, though economic growth is forecast to slow to 1.8% in 2020 after 2.3% in 2019. Lackluster business investment and cooler household spending are set to weigh on job gains.
With November polls less than nine months away, Democrats are likely to try to seize on any sign of faltering in a stable economy that's been bolstering Trump's re-election prospects.
What Bloomberg's Economists Say

"While moderating economic growth in 2020 could temper the pace of hiring, it will not disrupt the gradual, upward sloping trend of wage pressures and labor-cost inflation. Average hourly earnings may have missed to the downside in December, but one month is hardly a trend -- in fact, the trend has been in-line with what should be expected as labor slack diminishes.

-- Carl Riccadonna, Yelena Shulyatyeva, and Andrew Husby

Click here for the full note.
From a markets perspective, revisions are in the rearview mirror.
"What we care about is the here and now," said Arthur Hogan, chief market strategist at National Securities Corp. "I'd love to see a number that beats last month, I'd love to see a number that takes the three-month average higher, I'd love to see wages go up, and I'd love to see the participation rate go up -- and all those things are possible."