U.S. Jobs Engine Keeps Humming While Wage Pickup Stays Elusive
(Bloomberg) -- The latest U.S. jobs report showed the kind of gains that justify the Federal Reserve's plans to keep raising interest rates and also give central bankers little urgency to pick up the pace.
Employers added workers at a steady, albeit cooler, pace in July, and the prior two months were revised higher, Labor Department figures showed Friday. Wages extended their steady-but-unspectacular growth, while the unemployment rate slipped back below 4 percent and near the lowest since 1969.
Treasury yields and the dollar moved lower Friday, while U.S. stocks gained ground. A report later in the morning from the Institute for Supply Management, whose index of non-manufacturing industries was below all analyst estimates, suggested economic growth is softening this quarter after the fastest expansion since 2014. A widening trade war risks curbing business investment, which could hurt hiring.
"There are hints that concern about a trade war may be filtering into data, but so far overwhelmingly people are shrugging it off," said Joseph Song, senior U.S. economist at Bank of America Corp. in New York. On the ISM report, "I'm taking this as flashing yellow. This is definitely on my radar now and I'm very interested to see what happens in August. If you get another disappointing read, I would start to put trade tensions as a bigger risk to the outlook."
Even so, healthy consumer spending and business investment, supported by tax cuts and a bump in federal spending this year, are resulting in job gains that continue to be more than sufficient to accommodate population growth in the 10th year of the economic expansion. That's likely to keep the Fed on track to raise interest rates in September and December as investors expect, making four quarter-point hikes for 2018.
Anthony Nieves, chairman of the ISM non-manufacturing survey, said that while the "majority of respondents remain positive about business conditions and the economy," the sectors are showing a "cooling-off" amid concerns over tariffs and deliveries. There are "enough good things in place" to support demand, he said.
Highlights of Employment (July)
Non-farm payrolls rose 157k (est. 193k); May-June revised upward by 59k
Unemployment rate fell to 3.9% (matching est.) from 4%
Average hourly earnings rose 0.3% m/m, 2.7% y/y (matching ests.)
The softer payrolls figure may partly stem from store closings at Toys "R" Us Inc., which left 33,000 workers jobless. The category of sporting goods, hobby, book and music stores lost 31,800 jobs, reflecting unspecified losses in the subcategory of hobby, toy and game stores, the Labor Department said. It was the biggest decline in data back to 1990.
Goods-producing jobs continued adding workers at a robust clip. The manufacturing sector increased payrolls by 37,000, the most since December and exceeding projections for 25,000. The data follow a factory survey earlier this week showing industry growth cooled in July and executives were concerned about the impact of the trade war.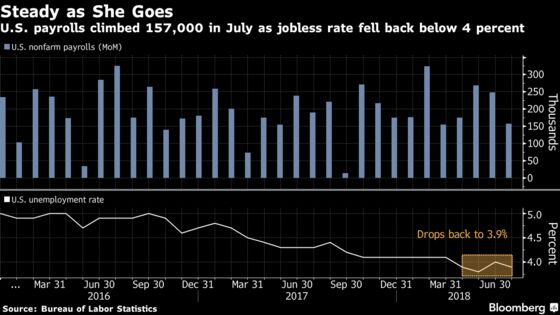 The report showed private employers added 170,000 jobs, while the public sector cut 13,000 positions. The drop in government payrolls was concentrated at the local level, where employment declined 20,000.
"It's very much steady as she goes for the labor market," said Stephen Stanley, chief economist at Amherst Pierpont Securities LLC. Trade uncertainty "provides a bit of a dark cloud for the outlook for the economy."
Referring to the ISM services survey, he said he's "not particularly concerned that we're on the front edge of a major weakening in the economy," though "you're probably starting to see people pulling back and becoming more cautious in their behavior."
What Our Economists Say
The July jobs report is sturdier than the monthly payroll change suggests at first glance. In fact, the tone is strikingly similar to what was observed in June: Solid jobs gains, muted wage pressures and little evidence of trade-war fallout. There is little reason to believe the pace of hiring is dipping below 200k per month for an sustained period of time, particularly in light of the fact that revisions show the six-month rate of change at an impressive 221k and manufacturing employment appears to be building momentum. 

-- Carl Riccadonna and Tim Mahedy, Bloomberg Economics

Read more for the full reaction note from Bloomberg Economics.
Construction hiring rose 19,000 after a 13,000 gain. In the service sector, hiring of 118,000 was the lowest since December. Leisure and hospitality was a main contributor with 40,000 jobs, while health care and social assistance added 33,500 and professional and business services added 51,000 -- including about 28,000 in temporary help, the most in more than a year.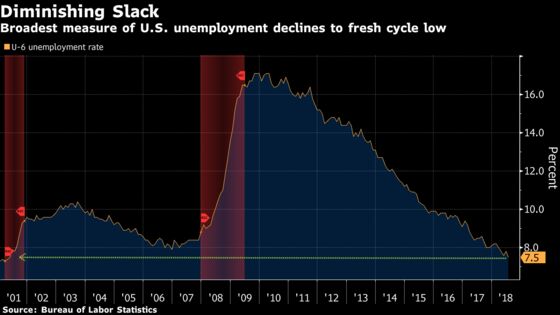 Another positive sign was the U-6, or underemployment rate, which fell to 7.5 percent, the lowest since 2001, from 7.8 percent. The gauge includes part-time workers who'd prefer a full-time position and people who want a job but aren't actively looking. People working part-time for economic reasons fell by 176,000 to 4.57 million.
Michael Gapen, chief U.S. economist at Barclays Plc in New York, said he's optimistic that wage gains will pick up, ending the year at about a 3 percent increase. "There is such a thing as slack in labor markets being removed and scarcity puts upward pressure on prices somewhere," he said.