U.S. Jobless Claims Unexpectedly Increase to Seven-Week High
(Bloomberg) -- Filings for U.S. unemployment benefits unexpectedly rose to a seven-week high while remaining consistent with a tight job market, Labor Department figures showed Thursday.
Highlights of Jobless Claims (Week Ended May 19)
Jobless claims increased by 11k to 234k (est. 220k)
Continuing claims rose by 29k to 1.741m in week ended May 12 (data reported with one-week lag)
Four-week average of initial claims, a less-volatile measure than the weekly figure, rose to 219,750 from the prior week's 213,500
Unemployment-benefits applications below 300,000 are generally considered consistent with a healthy labor market, and the latest tally still isn't far from the 48-year low of 209,000 reached in April. The claims figures, which tend to be subject to swings, have been on a declining trend as a widespread shortage of qualified workers spurs employers to retain staff while offering more perks to attract new ones.
The May jobs report due next week is projected to show payrolls expanded by close to 200,000 while the unemployment rate held at April's 3.9 percent level, which was the lowest since December 2000.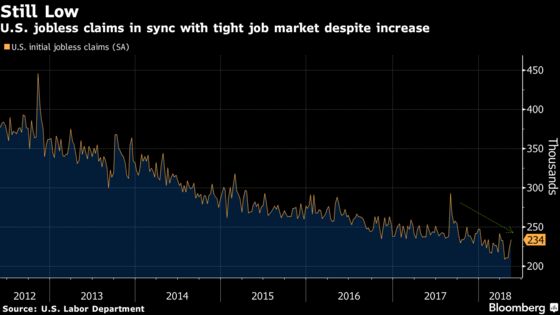 Prior week's reading was revised to 223,000 from 222,000
Unemployment rate among people eligible for benefits unchanged at 1.2 percent
Maine was lone state with estimated claims last week, according to the Labor Department