U.S. Jobless Claims Hold Steady, Bucking Forecasts for a Decline
(Bloomberg) -- Filings for U.S. unemployment benefits unexpectedly held at a two-month high last week, possibly reflecting the late timing of this year's Easter holiday and spring vacations.
Jobless claims were unchanged at 230,000 in the week ended April 27, according to Labor Department figures released Thursday, compared with economist estimates for a decline to 215,000. The four-week average, a less-volatile measure, increased to 212,500, the highest since late March.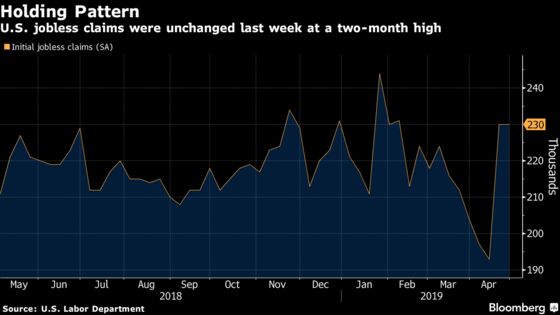 While claims data often show volatility around holiday periods, the figures, if sustained at this level or higher, might signal some softening in an otherwise strong labor market.
The data follow the biggest increase in jobless claims since late 2017 in the prior week. Some economists had attributed the jump in part to the Easter holiday -- which fell this year on April 21 -- and a supermarket chain strike in New England.
Thursday's report appeared to back up at least some of that theory. The Labor Department cited layoffs in the "educational service" industry in Massachusetts, Rhode Island and New Jersey, as well as in retail in Massachusetts, in the week ended April 20. New York and New Jersey had the biggest increases in unadjusted claims for the week ended April 27.
A gauge of factories released Wednesday fell to the lowest since 2016 as a measure of manufacturing employment declined. Payrolls data Friday are forecast to show April jobs growth just above the 180,000 average over the past three months, after a separate measure of private employment topped expectations on Wednesday.
What Bloomberg's Economists Say

The labor market remains strong. Jobless claims failed to reverse prior week's sharp increase, but the data around Easter, Passover and spring break is usually volatile and unlikely to display true underlying conditions.
-- Eliza Winger and Marco Babic, Bloomberg Economics
Click here for the full note.
Continuing claims, which are reported with a one-week lag, increased by 17,000 to 1.671 million in the week ended April 20.
The unemployment rate among people eligible for benefits held at 1.2 percent.
A separate Labor Department report Thursday showed Americans' productivity rose at a 3.6 percent annualized pace in the first quarter, the fastest gain since 2014.