U.S. Economic Hole Remains Deep Despite Jobless-Claims Milestone
(Bloomberg) -- The number of Americans applying for unemployment benefits fell below 1 million for the first time since the pandemic began in March, a milestone that underscores both the depth of economic damage and long road to recovery from the sharpest downturn since the Great Depression.
The latest figure of 963,000 on Thursday capped a steep two-week decline and is a fraction of the nearly 7 million filings at one point in March. Still, there are more Americans seeking benefits each week than at the highest point following the 2008 financial crisis.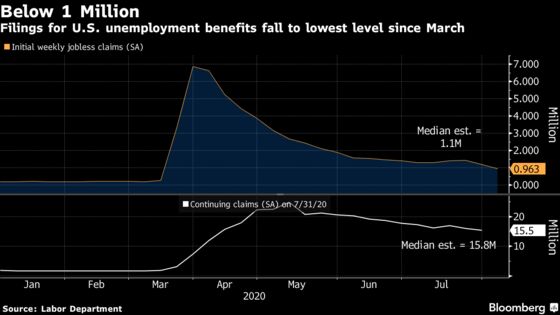 Other high-frequency indicators, such as credit-card spending and airline passengers, suggest the economic rebound remains gradual, and a measure of consumer sentiment just touched a five-week low.
"The direction is encouraging," said Michelle Meyer, head of U.S. economics at Bank of America Corp., who highlighted that the labor market may be catching up to other more positive indicators. "But the level is still high, which means there's more work to be done. We're five months after the initial shock in March, and claims at 963,000 are still very much in recessionary territory."
Read more: Bloomberg's TOPLive blog on the jobless claims data
Continuing claims -- the total number of Americans claiming ongoing benefits in state programs -- also decreased to 15.5 million in the week ended Aug. 1, the lowest since early April. But they're still far above historical levels going back to the 1960s.
Economists were expecting higher figures on Thursday, with a median estimate of 1.1 million for initial claims and continuing claims of 15.8 million.
The bigger-than-expected drop in claims follows an ebbing in new coronavirus cases, underlining how important control of the virus is for an economy that remains well below its pre-crisis state. It may support the argument by some businesses and Republicans that the $600 benefit -- which expired in July -- was keeping people from returning to work.
The improvement in the data could reduce the pressure on the White House and lawmakers to quickly agree on a new stimulus package.
With unemployment above 10% in July, the labor market still faces challenges, including a high level of virus cases and widespread business closures and bankruptcies, as well as online learning that's forcing Americans to take care of their children at home.
"It's going to be a much harder slog ahead," said Ryan Sweet, head of monetary policy research at Moody's Analytics. "States have paused or rolled back some of their reopening, the secondary effects of the recession are beginning to kick in," and more business bankruptcies will weigh on employment, he said.
"One concern for both the job market and the broader economy is the lack of urgency in passing another round of fiscal stimulus. The economy needs more fiscal stimulus."
What Bloomberg's Economists Say

"The favorable direction of travel still leaves the job market well short of a healthy destination. Flows out of employment are consistent with the deepest post-war recessions. The effects of shadow joblessness -- labor force exits -- and long-term unemployment will persist for an extended period."

-- Andrew Husby

Read more for the full reaction note.
U.S. stocks were mixed Thursday, a day after the S&P 500 benchmark closed within 0.2% of its all-time high. Treasuries were little changed, while the dollar was lower.
The latest declines in initial claims spanned states where coronavirus cases had bloomed in prior weeks, such as California and Florida, as well as New York, where counts have remained low.
President Donald Trump last weekend authorized the payment of an extra $400 a week in jobless benefits to unemployed Americans, smaller than the $600 benefit that expired in July -- and limited by funds that could run out within two months.
Rather than a straightforward $400 top-up, though, the payment is actually just $300 in additional federal funds, and states can choose whether or not to add the $100 from their own coffers. Trump also announced a four-month deferral of payroll taxes, though economists questioned the effectiveness of such a move.
In addition to applications for benefits in regular state programs, states reported 488,622 initial claims for Pandemic Unemployment Assistance, or PUA, in the week ended Aug. 8. That's the federal program offering jobless benefits to those who don't qualify for the state program, such as the self-employed and gig workers.