U.S. Job Openings Drop From Record; Quit Rate Stays Elevated
(Bloomberg) -- U.S. job openings fell in September from a record in the previous month while Americans continued to voluntarily leave their positions at the highest rate since 2001, Labor Department data showed Tuesday.
Highlights of Job Openings (September)
Number of positions waiting to be filled decreased to 7.01m (est. 7.09m) from an upwardly revised 7.29m in August, according to the Job Openings and Labor Turnover Survey, or JOLTS 
Hiring fell to 5.74m from 5.91m; hiring rate decreased to 3.8% 
Quits rate unchanged at 2.4%; 3.6m Americans quit their jobs, down from 3.65m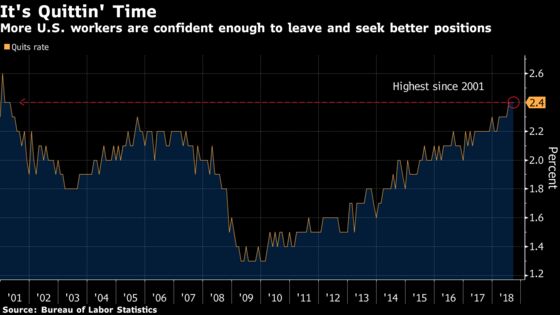 While the number of openings showed slightly less demand for workers, the elevated quits rate continued to indicate that Americans are confident in leaving their jobs for better pay or benefits elsewhere.
The decline in vacancies reflected drops in professional and business services, financial activities and construction. Openings increased in trade, transportation and utilities; health care and social assistance; and accommodation and food services.
Labor Department data last week showed that employers added a better-than-expected 250,000 jobs in October, while the unemployment rate held at a 48-year low and annual wage gains topped 3 percent for the first time since 2009.
Although it lags the Labor Department's other jobs data by a month, the JOLTS report adds context to monthly employment figures by measuring dynamics such as resignations, help-wanted ads and the pace of hiring.
Layoffs declined to 1.7 million from 1.79 million; layoffs rate fell to 1.1 percent
There was 0.9 unemployed person per job opening, compared with 1.9 people when the recession began at the end of 2007
In the 12 months through September, the economy created a net 2.5 million jobs, representing 67.5 million hires and 65.1 million separations