U.S. Inflation Expectations Slide Amid Heightened Focus From Fed
(Bloomberg) -- U.S. households in February reduced their expectations for inflation to the lowest level in 18 months, according to a Federal Reserve Bank of New York survey of consumer expectations.
The median respondent to the New York Fed's monthly study reported an expected inflation rate of 2.8 percent in three years' time, down from 3 percent the month before, according to results published Monday.
Inflation expectations play a key role in the decision making of the Fed as it weighs monetary policy decisions, with central bankers believing stabilizing them will go a long way toward stabilizing the economy. The New York Fed survey provides one of the few available data points for officials as they assess how expectations are behaving.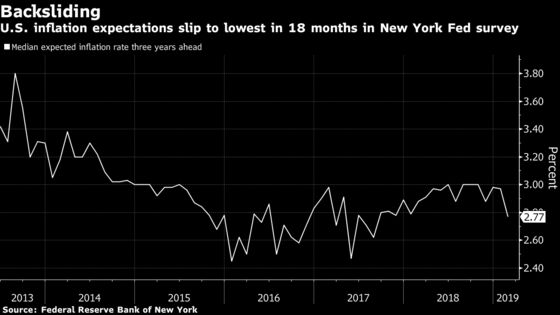 From the 1980s to 2008, policy makers were primarily concerned with bringing inflation expectations down from the high levels brought about by the so-called Great Inflation of the 1970s. Since the 2008 financial crisis, they've become more concerned about the possibility that inflation expectations could get stuck too low.
Fed officials have been raising interest rates since 2015, following a seven-year period at near-zero levels, in part based on the notion that low unemployment could put upward pressure on inflation. Since hiking in December they've backed away from further rate moves to wait and see how slowing global growth affects the U.S. expansion.
Officials are also undertaking research this year to determine whether changing the way they communicate about their 2 percent inflation target -- possibly by shifting to a strategy of making up for past undershoots of the goal by deliberately allowing it to run above that level -- would make inflation expectations more stable.
"We haven't actually said that we want to average 2 percent inflation. What we've said is something a little bit different, which is that we look at errors above and below 2 percent symmetrically," Federal Reserve Chairman Jerome Powell said in an interview that aired Sunday on CBS News' "60 Minutes."
"Inflation has mostly been below 2 percent. We haven't had inflation above 2 percent, and so it has averaged less than 2 percent," he said. "And that's something that is worth thinking about, because we want inflation expectations to be anchored at around 2 percent."