U.S. Homeowners Staying Put as Mortgage Rates Lock Them In
(Bloomberg) -- There's no place like home.
The median length of time Americans have owned their homes rose to a record of more than eight years in the third quarter, according to ATTOM Data Solutions. That's up from 4.5 years when the recession ended in June 2009.
With mortgage costs on the rise, moving will be "even less appealing as homeowners may not want to give up their rock-bottom interest rate to buy a new home at the now-higher rates," according to Daren Blomquist, senior vice president at the firm.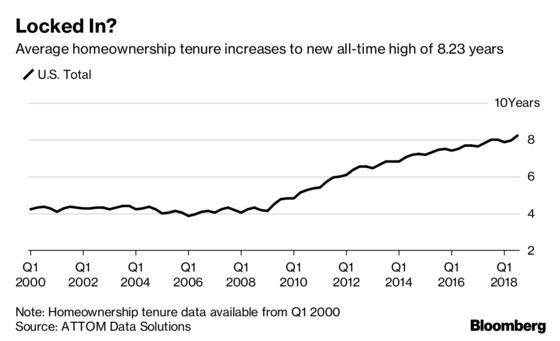 The lengthening home-ownership tenure is also a consequence of tight housing inventory, a trend toward aging in place and a lack of appealing job opportunities in other communities.