U.S. Government Interest Payments Just Exceeded Belgium's Output
(Bloomberg) -- U.S. government interest payments surpassed total economic output from Belgium in the fiscal year ending Sept. 30, underscoring the growing burden of America's debt load amid wider budget deficits and climbing borrowing costs.
The government shelled out $523 billion on interest in fiscal year 2018, the highest on record and 14 percent more than the prior 12-month period, according to data published by the Treasury Department Thursday.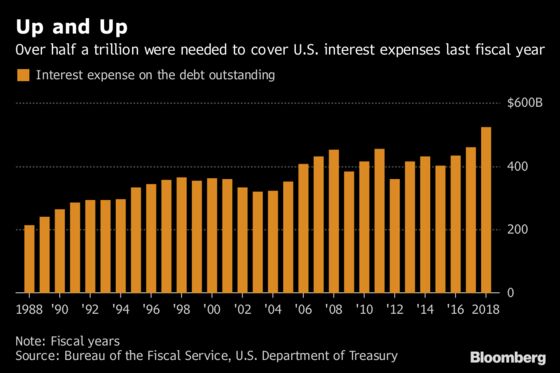 To be sure, the figures represent gross rather than net interest payments. The government in some cases pays interest to itself, as for example the Federal Reserve owns Treasury securities.
Still, the rising debt burden has raised alarm bells in Washington, where the Congressional Budget Office in April warned lawmakers that the government is on track to spend more on interest than national defense by fiscal 2023.
The debt load is climbing as tax cuts, spending hikes and increased retirement levels put pressure on the government's budget. Meanwhile, average interest rates climbed to 2.4 percent in fiscal 2018 from 2.1 percent in the prior 12-month period, according to Treasury.
The CBO on Friday is scheduled to publish estimates for the September budget result after the deficit expanded to $898 billion in the 11 months through August.