U.S. Goods-Trade Gap Narrows as Exports Climb to Pre-Virus Level
(Bloomberg) -- The U.S. merchandise-trade deficit narrowed in December as a jump in exports to pre-pandemic levels accompanied a continuing increase in imports, signaling a recovery in global demand for American products.
The deficit shrank to $82.5 billion from $85.5 billion in November, according to Commerce Department data released Thursday. Economists in a Bloomberg survey had called for an $84 billion shortfall in December. Imports rose 1.4% to $215.9 billion, the highest since October 2018, while exports increased 4.6% to $133.4 billion, the highest since February.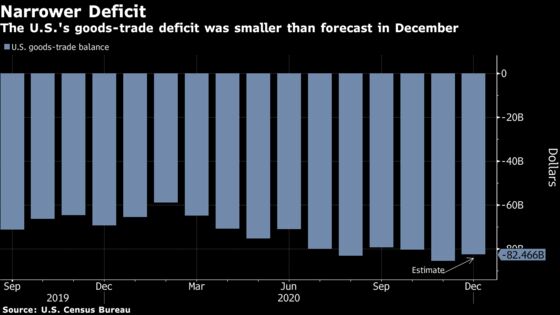 Overall, the value of U.S. exports plus imports surged to $349.3 billion, the highest since May 2019, signaling a recovery in trade.
The report Thursday also showed retail inventories advanced 1% from the prior month, the largest increase since September. Wholesale inventories rose 0.1%.
China and the U.S. last January signed the first phase of a trade agreement that's supposed to see the Asian nation buying an extra $200 billion of American goods within two years, the result of nearly three years of contentious talks that roiled markets.
Amid the disruption of the global pandemic, U.S. exports to China reached only 63% of their 2020 target, the U.S. Census Bureau said in a statement on Wednesday.
President Joe Biden's pick for Commerce secretary, Gina Raimondo, said this week that the U.S. must take "aggressive" steps to combat China's "unfair" trade practices while also investing to bring manufacturing back to America. But the new administration will take time to review policies carried over from former President Donald Trump, including tariffs, she said. Those lingering duties amount to about $370 billion.
The trade picture will come into greater focus when the final report, which includes services, is released on Feb. 5.