U.S. GDP Report Expected to Give Trump a Win Ahead of Midterms
(Bloomberg) -- The U.S. economy is poised for its best back-to-back quarters of growth since 2014, handing President Donald Trump a $20 trillion talking point just in time for the midterm congressional elections.
The report due Friday, the last data before the Nov. 6 vote, will show gross domestic product expanded at a 3.4 percent annualized pace in the July-September period after a 4.2 percent gain in the prior quarter, according to the median estimate of economists surveyed by Bloomberg. Consumer spending and business investment probably drove growth, and inventory accumulation also contributed.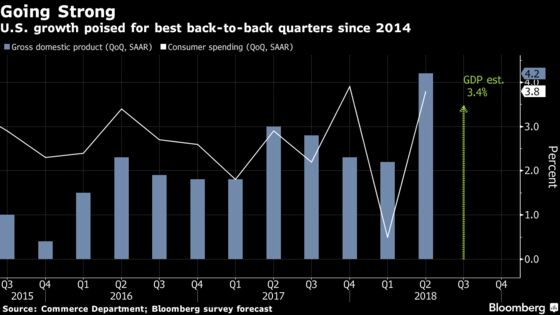 A solid job market, lower taxes and more government outlays have pushed growth above its potential in a close campaign in which Republicans are defending control of Congress. But many analysts see a pace faster than 3 percent as temporary: It's projected to cool this quarter and further soften in 2019 as the tax-cut boost fades, borrowing costs climb and inflation firms up amid Trump's trade war with China.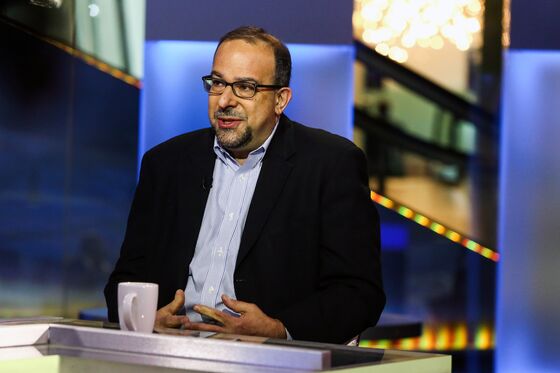 "GDP is going to be a good, solid print," said Joshua Shapiro, chief U.S. economist at consultant Maria Fiorini Ramirez Inc. in New York. "It is certainly something for Trump to beat the drum about."
Even so, it's not clear if it will help Republicans, with forecasters expecting Democrats to make significant gains that may give them a majority in the House. Democratic candidates are betting on Trump's low approval ratings and indications that not all Americans are benefiting from the economic gains.
What Our Economists Say
Bloomberg Economics maintains the view that the heady gains logged earlier this year are unsustainable. However, the momentum from the second quarter appears to have carried more fully through to the current quarter relative to what was initially anticipated.

-- Carl Riccadonna, Yelena Shulyatyeva and Tim Mahedy, Bloomberg Economics
The Federal Reserve is expected to raise interest rates for the fourth time this year in December and continue lifting them gradually to keep inflation near its 2 percent goal. Price gains eat into wage growth that's been disappointing so far.
Shapiro expects "moderating but still quite healthy growth in 2019." For now, "the state of the economy is serving Republicans well" though the president's "divisiveness is countering that to a certain degree," he said.
Hurricane Florence in September probably depressed some economic activity, including household spending, employment and industrial output last quarter, and fourth-quarter data may also reflect the fallout from Hurricane Michael, which struck Florida this month.
Here's what to expect from the main components of the GDP report:
Household purchases, which account for almost 70 percent of GDP, rose at a 3.3 percent annualized rate following a second-quarter advance of 3.8 percent, according to the survey.
A broad-based gain in September retail sales -- from automobiles to electronics and home furnishings -- indicated consumers were in good shape toward the end of the third quarter amid steady hiring, improving finances and lower taxes.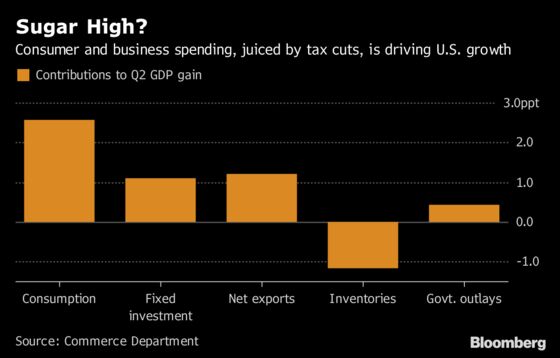 Economists project another gain in non-residential business investment, including equipment spending, due to the tax cuts and steady U.S. demand, as well as a persistent shortage of skilled labor. At the same time, tariff-related materials costs are rising.
Minutes of the Fed's September meeting showed a "number" of central bankers reported that business contacts had foregone production and investment opportunities because of trade-related uncertainty, and some firms were attempting to diversify import and export options.
Residential investment, which posted two consecutive declines, is projected to have struggled again, reflecting higher home prices and mortgage rates, along with a lack of affordable listings.
Net exports were probably a significant drag on growth. In the second quarter, they delivered the biggest boost since 2013, as U.S. exporters of soybeans and other products accelerated shipments to beat retaliatory tariffs from abroad. Along with the unwinding of that effect, the trade gap may keep widening amid solid domestic demand and some front-loading of imports ahead of a January rise in levies on Chinese goods.
Meanwhile, businesses' rebuilding of stockpiles means inventories may have made a sizable contribution to growth. In the second quarter, they plunged by the most since 2009 as tariff threats disrupted supply chains that were already struggling to keep up with demand.
Economists often prefer to look at growth excluding these two volatile categories and focus on final sales to domestic purchasers, which rose 4 percent in the April-June period.
Government outlays, which expanded in the second quarter at the fastest rate since early 2016, probably continued to support growth amid rising defense spending.
Analysts at Goldman Sachs Group Inc. estimate a 5 percent gain in federal spending, which accounts for about 40 percent of government outlays in GDP. When including the remainder, which covers state and local spending, Deutsche Bank AG projects a 2.3 percent rise last quarter.