U.S. Factories, Health Care Fueled Economy's Third-Quarter Surge
(Bloomberg) -- The record U.S. economic rebound in the third quarter was led by manufacturing, health care and restaurants, indicating such industries benefited most from reopenings after the initial pandemic lockdowns.
Gross domestic product increased 7.5% from the prior period, or at an annualized rate of 33.4%, revised from 33.1%, according to the Commerce Department's third estimate released Tuesday. Personal spending, which makes up about two-thirds of GDP, rose at an upwardly revised 41% pace.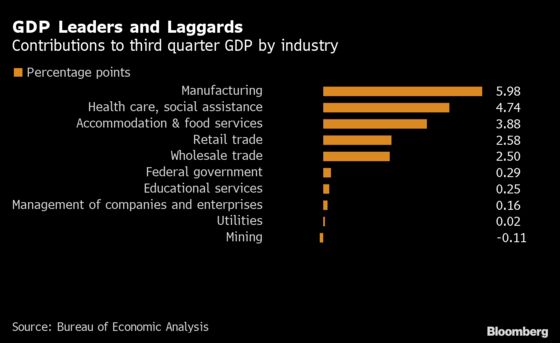 The figures include the first breakdown of industry performance for the period, with all industry groups showing a positive contribution to GDP in the period except for mining, which was a slight drag. Private service providers added 24.55 percentage points to third-quarter GDP while goods producers added 7.45 percentage points.
While the rebound in total output is the strongest in modern records, it follows the sharpest contraction since the Great Depression. Federal fiscal stimulus, approved by Congress on Monday, may help avoid another downturn with direct payments to individuals, industries including airlines and extensions for unemployment benefits.
More recent data show the economy slowing again as a second wave of virus cases and renewed shutdowns weigh on the nascent recovery. Initial jobless claims rose to a three-month high in the most recent week of data, while retail sales in the crucial pre-holiday month of November fell more than forecast.