U.S.-EU Deal Leaves Doubts Aircraft Case Will Be Resolved
(Bloomberg) -- Supply Lines is a daily newsletter that tracks trade and supply chains disrupted by the pandemic. Sign up here.
The truce between the U.S. and the European Union over aircraft subsidies left intact doubts that the dispute will ever get fully resolved and end transatlantic tariff threats for good.
One of the main pillars of Tuesday's framework agreement suspending tariffs for five years, which the White House and the European Commission hailed as historic, is the right for either side to reimpose duties if the other party doesn't live up to the deal's principles.
U.S. Trade Representative Katherine Tai said it's a way to ensure compliance and to show how serious the Biden administration is about enforcing these terms.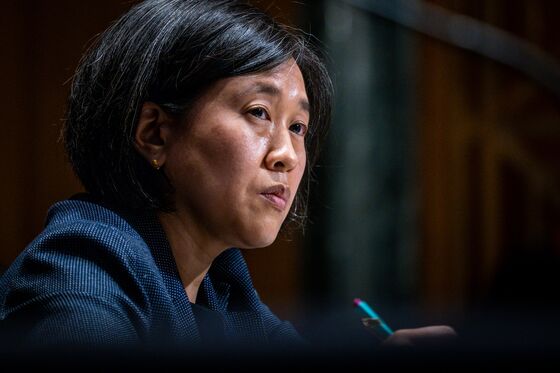 "It is going to be helpful to have the ability to bring these tariffs back to keep each other honest," Tai told a group of reporters Tuesday. "I think that you would consider us naïve, and certainly our industries would be right to consider us naïve, if we let go countermeasures that took 16 years to win."
But some trade experts say the Biden administration gave up valuable negotiating leverage in reaching this week's deal, sowing doubt the two sides will reach a conclusion that settles cases involving Boeing Co. and Airbus SE that have dragged on for nearly 17 years.
The World Trade Organization in 2019 gave the U.S. the green light to impose $7.5 billion in retaliatory tariffs annually on European imports. That figure turned out to be nearly double the $4 billion award last October that the WTO authorized Brussels to target in American goods.
From the European perspective, the deal is viewed as a win because it avoids any requirement for Airbus to repay any portion of the illegal subsidies it received from EU member states, which was a key demand from the Trump administration.
Clete Willems, a former Trump administration trade official now at Akin Gump, said the outcome leaves too many question marks and could signal a broader U.S. approach on EU trade barriers.
"I applaud the administration for trying to resolve disputes with the EU but the decision to abandon leverage without getting hard commitments in return is perplexing," he said. "They should keep working to settle the WTO disputes once and for all, and remove the tariff cloud over transatlantic trade."
The deal doesn't address outstanding subsidies the U.S. alleges were provided to Airbus and instead establishes a working group to further discuss existing aid, with a focus on establishing a common set of rules and strategies to compete with non-market economies like China.
A senior USTR official told reporters later on Tuesday that the five-year suspension of duties was aimed at forcing the two sides to consider whether the framework needs to be adapted over time -- which could include seeking more details or reaffirming Tuesday's outcome -- but it's also an effort to recognize that the sector changes over time, and the needs and issues involved may change as well.
However, a more detailed agreement laying out the subsidy issues is not necessarily a stated goal between the two sides, the USTR official said.
"An aircraft settlement has long been the white whale of trade policy, which is why yesterday's announcement of a five-year truce was so significant," said Kelly Ann Shaw, former senior trade official in the Trump administration and now partner at law firm Hogan Lovells.
"It's fair to question whether the threat of re-imposing tariffs provides sufficient leverage for a deal that already has evaded both sides for 17 years," she said. "What's clear, however, is that both sides are ready to move on."
Tai acknowledged that while it may take some time to reprogram both sides' strategies after years of litigation, the desire is to build confidence to further cooperate and negotiate.
"It's part of a trust building that we need to do over the course of the next five years. We have spent a very long time fighting each other," she said.
"But until we get there, if one of us strays from the principles that we've laid out here, we're not going to condemn ourselves to another 20 years of litigation to win back the ability to enforce this cooperative principle."