U.S. Envoy in Beijing Calls China's Huawei Lawsuit 'Bizarre'
(Bloomberg) -- The Trump administration's top diplomat in Beijing blasted China's strategy in responding to concerns about Huawei Technologies Co., and called the company's lawsuit against the U.S. "kind of bizarre."
The Chinese telecom giant, which is facing multiple criminal indictments in the U.S., filed a federal lawsuit in Texas this week claiming that a ban on American government purchases of its equipment violates the Constitution and could kill the company.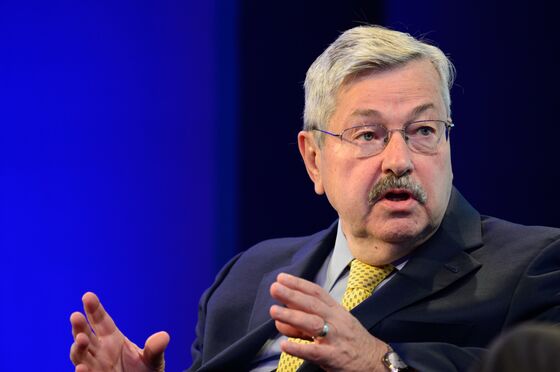 "This lawsuit is a brand new deal so I don't know the details on that," Terry Branstad, the U.S. ambassador to China, told Bloomberg TV in an interview. "But it just seems kind of bizarre."
Branstad said the lawsuit "sounds like retaliation" similar to China's jailing of two Canadians shortly after Huawei's Chief Financial Officer Meng Wanzhou was arrested in Vancouver in December. He also mentioned a Canadian citizen who received the death penalty after appealing a 15-year drug sentence. China has denied the cases are connected.
"That would never happen in Canada or the United States," Branstad said. "And I think that's not, in my mind, I don't think that's a very smart strategy."
The U.S. is pushing for other countries to avoid using Huawei's equipment for 5G telecommunications networks due to espionage fears, allegations that China has strongly denied. The dispute has further dented ties between the U.S. and China even as the two countries get closer to ending an months-long trade war.
In a news conference on Friday, China's Foreign Minister Wang Yi called the U.S. actions against Huawei and Meng "a deliberate political move to bring them down.
"China has and will continue to take all necessary measures to resolutely protect the legitimate and lawful interest of Chinese business and citizens," he said. "At the same time, we support the company and individual in seeking legal redress to protect their own interactions and refusing to be victimized like silent lambs."