U.S. Employment Costs Rose Less Than Expected in Fourth Quarter
(Bloomberg) -- U.S. employment costs rose less than forecast in the fourth quarter as wage and salary gains cooled, adding to signs that inflation pressures remain mild despite a strong job market.
The employment cost index, a broad gauge monitored by the Federal Reserve, increased 0.7 percent in the October-December period from the prior quarter, according to Labor Department data released Thursday. That compared with the median estimate of economists for a 0.8 percent increase. Wages and salaries rose 0.6 percent following a 0.9 percent gain in the prior period.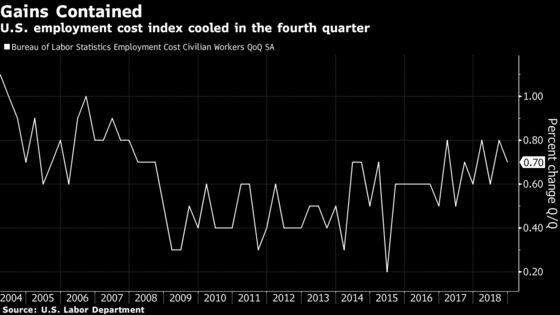 While employers are paying more and boosting benefits to retain workers as it becomes ever harder to hire, the data show little sign of a major pickup in compensation. Among private workers, the deceleration in the index over the quarter was more pronounced, with a 0.6 percent increase.
At the same time, compensation costs have risen enough to help push the employment-cost index up 2.9 percent from a year earlier, the most since 2008.
The lack of a big acceleration in labor costs reinforces the Fed's decision this week to indicate it will forgo interest-rate hikes for at least a while as various global risks mount. Policy makers on Wednesday cited "muted inflation pressures" as they shifted to a patient approach to future rate moves following four hikes in 2018.
Growth in average hourly earnings, a separate monthly measure of private-sector wages that can be influenced by shifts in industry employment and hours worked, recently picked up above 3 percent for the first time since the economic expansion began.
Wages and salaries for all civilian workers rose 3.1 percent from a year earlier, the most since 2008. For private workers, they were also up 3.1 percent from a year earlier, the same as the prior quarter.
A separate Labor Department report on Thursday showed filings for unemployment benefits jumped last week to the highest since September 2017, possibly reflecting holiday- related swings and the partial government shutdown.
The government's quarterly ECI reading covers employer-paid taxes such as Social Security and Medicare in addition to the cost of wages and benefits.